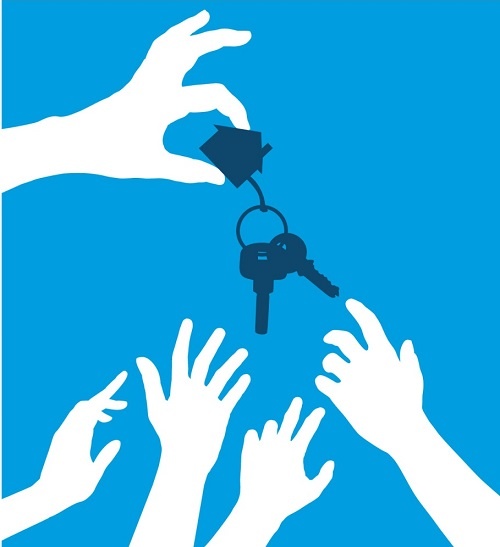 While Toronto's real estate market is expected to start leveling out, buyers looking for homes in Toronto's hottest neighbourhoods aren't feeling any relief. As a member of the expert panel for The
Grid's First-Time Home Buying Guide, I was recently asked what buyers can do to give themselves an edge in Toronto's hot
spring market.
While many come to mind, the
top tip I can offer is to get a jump on newly listed houses by seeing them before
anyone else does.
When new houses come onto the market for sale, the sellers
will either be willing to review offers any time or will have set an offer date
roughly a week after the house first comes onto the market.
When a seller decides
to take offers any time, buyers who can see houses as soon as they come on the
market have an advantage over other buyers because if the houses is the right
fit, the buyer can make an offer on the house before other buyers have even
visited it. This is particularly true as many buyers tend to wait until
weekends to view houses so they can see many in one shot.
Now I'm sure buyers who are house-hunting in some of
Toronto's most popular neighbourhoods are thinking - are there any houses
out there taking offers any time?!

The answer is yes, and often some
pretty nice ones. You probably haven't
seen many because they typically sell in a day,
before you've even had a chance to see it.
I know this strategy works because many of our clients have bought their homes this way, without the
headache of competing in bidding wars.
Even when houses have an offer date set, it's still worth being
the first to see the house because depending on how the home is priced and how
experienced the listing agent is, you can benefit from making a pre-emptive
offer on the house before the actual offer date (also known as the "bully
offer.")
It's not uncommon to see a house that's really worth $650K
listed for $599 with an offer date set the week after it's listed. This
strategy is used to generate a multiple offer situation for the seller. If the
house is a great fit for you and the listing agent is a rookie agent, it's
worth making a pre-emptive offer closer to its market value of $650K on the
house the first day it's listed. As long as you are pretty confident about the
true market value of the house, you can do this because you know that in a
strong neighbourhood in a hot market the home is likely going to attract
multiple offers on offer day and sell for more than $650K if you wait that
long.
This "multiple offer" strategy works best when the house is
priced well below market because it makes your pre-emptive offer look more
attractive to sellers. In the scenario
above, the offer of $650K looks great to the seller and rookie agent because its
$50K over asking, but the reality is you would be paying market value for the
house.
All of this probably leads the astute buyer to another question – if all buyers are
looking at the same listings on realtor.ca, how can you get a jump the competition? I'll follow up with the answer in Part 2 next week.
New Realosophy Workshop Alert!

Since I started writing about Toronto's real estate market from a consumer's perspective nearly six years ago, I have heard from many buyers who have run into problems with their home purchase. Unfortunately, many buyers contact me when things have already gone wrong, but I have done my best to advise them on how to best manage their situation.
I've consolidated all of these "lessons learned" into a list of Top 10 Pitfalls that Every Home Buyer Should Know. We'll be running our first workshop in a couple of weeks to share the Top Ten Pitfalls and answer your specific questions. Sign up below to reserve a spot or learn more.
John Pasalis is the President and Broker of Realosophy
Realty Inc. Brokerage in Toronto. A leader in real estate analytics and
pro-consumer advice, Realosophy helps clients buy or sell a home the
right way. Email John
Share This Article