John in Toronto Real Estate News, Home Buying, Condo Buying, Home Selling
Realosophy released its semi-annual Home Value Survey for the Globe and Mail today and I thought this would be a good opportunity for me to drill into the sales stats in more detail to help makes sense of what's been going on in Toronto's real estate market so far in 2014.
Surge in High End Home Sales
We saw some steep appreciations in average sale prices in many of the neighbourhoods in our Home Value Survey and when we drilled down to understand what was driving this appreciation we found a significant increase in luxury home sales.
The number of homes selling for over $2M increased by 38% so far this year (Jan-Aug) compared to the same period last year. When we look at all homes selling for over $1M, we saw a 40% increase in the number of sales over last year.
This observation is particularly interesting because home purchases for over $1M do not qualify for CMHC mortgage insurance which means buyers in this price range would need a minimum 20% down payment.
Competitive market for Houses and Condos doing well
When we look at the change in sales (4%) and new listings (-1%) for the first 8 months of 2014 for the GTA as a whole, we don't see much of a story in the numbers. But looking at sales and listing data by house type gives us a different picture of the market.
During the first 8 months of 2014 4 out of the 5 major house types in Toronto saw a decline in the number of new listings coming on the market. Condo Apartments were the only house type that saw an increase in the number of new listings (4%).
When we look at the change in sales over the same period we see that all 5 house types saw an increase in the number of sales with condo apartments leading all house types with an 8% increase in sales.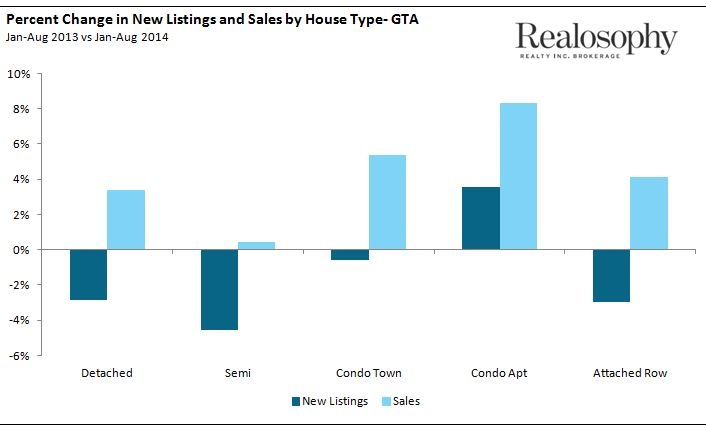 The above chart is interesting for a couple of reasons. Firstly it helps explain why the market for houses was so competitive during the first part of 2014. We had more buyers competing for fewer houses which is what drove the high number of bidding wars and bully offers we were seeing for most of 2014.
Second, it's showing that the fears of a glut in condo apartments have yet to materialize. Many bubble theorists often comment on fears about 15,000-19,000 condos hitting the resale market as soon as they're completed, which of course would result in a surge in supply. So far in 2014 we've seen a 4% increase in condo listings, from 30,828 in 2013 to 31,927 in 2014. Even though Toronto is seeing anywhere from 15,000-19,000 new condo completions each year the data suggests that the majority appear to be owned by end users or investors who are not flipping them once completed.
Finally, seeing a strong increase in condo sales is positive for a couple of reasons. Firstly, it shows us that there continues to be strong underlying demand for condo apartments in the GTA. But more importantly, it shows that consumer confidene in Toronto's condo market remains high.
Semis continue to be the hottest housing type
When we look at the sales-to-inventory ratio by house type we can see that semi-detached houses continue to be the most competitive house type in the city.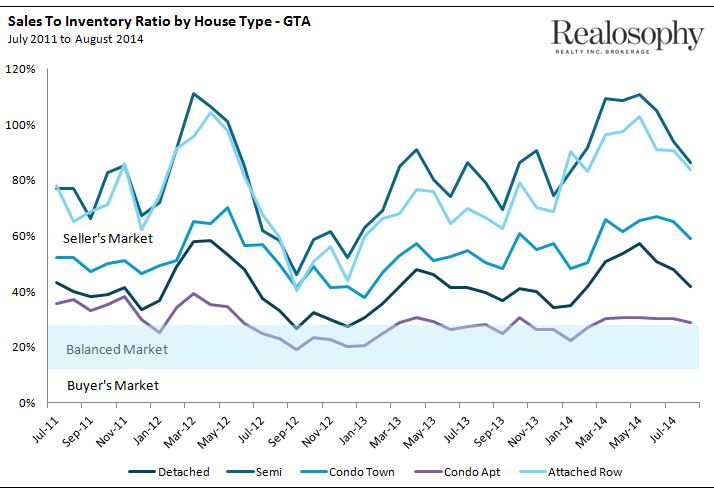 The sales-to-inventory ratio shows us the balance between supply (inventory) and demand (sales) in the market. Read more about the sales-to-inventory ratio here.
Semi-detached homes are followed by freehold townhouses and then condo townhouses as the three most competitive house types. These are followed by detached homes in fourth and condo apartments as the least competitive house type.
John Pasalis is the President and Broker of Realosophy Realty Inc. Brokerage in Toronto. A leader in real estate analytics and pro-consumer advice, Realosophy helps clients buy or sell a home the right way. Email John
Share This Article