Toronto's subway story just got exciting-scary.
Residents of several Toronto neighbourhoods scrambled for their Google maps this week as news of the Toronto Transit Commission's (TTC) plans to build new subway routes in East York and Scarborough surfaced in an unexpectedly tangible way - exact streets (and in the latter case, property addresses) were named.
In a city hungry for transit, most city planning proceeds in a slow drip water torture of flyers, pre-plans, plans, plans about the plans and meetings tediously focussed on particular details (someone in a condo down the block wants to put in a second sink, please come and tell us how you feel about it) - it's almost as if someone wants people to tune out.
Until something big happens.
A Scarborough man is now vowing to keep his home from expropriation to make way for the Scarborough subway extension near McCowan Rd. In Leslieville, a resident circulated an anonymous letter urging for the Relief Line to run along existing railway tracks to avoid running under area homes. The next day, it emerged that TTC staff will recommend running under homes - a route travelling beneath homes on Pape Ave from the existing Pape subway station in the north to Eastern Ave in the south before turning west along Eastern (see image above).
Curiously, Scarborough residents are getting expropriation warnings about a route yet to be finalized while Leslieville residents have not received any notice of planned routes.
If you live along the proposed routes, you're probably worried. Assuming expropriation isn't a possibility (!), are you about to experience a financial setback? Just how much will a subway running under your home cost you?
Our quick (and extremely small sample size) analysis of a East York neighbourhood along the existing Danforth subway line zooms in on Strathmore Blvd, a street just north of the Danforth with homes over the subway below.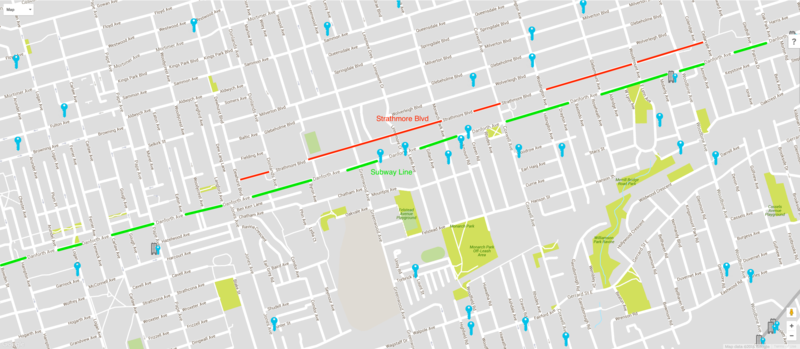 Image: Realosophy.com
A look at sales of 3+ bedroom, semi-detached homes on Strathmore Blvd over the past 12 months suggests an avg sale price of $757K versus an avg price of $798K in the rest of the area. That's a discount of about 5% off the sale price.
For some, putting a number around one's fears will be comforting.
For others, it will confirm that subways in close proximity have an negative impact on homes - but keep in mind that homes around subways enjoy a price premium relative to other areas.
Of course, home values are only part of the problem. There will be construction. (Thanks to Toronto's condo construction, many residents routinely experience mini earthquakes so perhaps that's training.) And then there is noise. It's the very type of thing that sent Henry David Thoreau fleeing to Walden Pond. But noise is endemic to the city, and some would argue, a vital part of it. For every one that may want out, there are many that stay in, on Strathmore Blvd and elsewhere.
Remember that we're talking about red rocket planning - nothing is for sure and things take time. There is no funding for the Relief Line and the on again-off again Scarborough subway extension aims to have first trains running in 2023. (In the meantime, stay informed via project websites for the Scarborough extension line and Relief line).
Top photo credit: reliefline.ca
Realosophy Analytics powers Realosophy's popular consumer and client tools including realosophy.com, Realosophy Pro, Neighbourhood Match and frequently provides data and analysis to the media. Realosophy Realty Inc. Brokerage is an innovative residential real estate brokerage in Toronto that helps home buyers and sellers make better real estate decisions.
Share This Article