Nicole Harrington in Listings of the Week
Editor's Note: Due to error, this post was recently reposted. It refers to a listing that was previously available. We apologize for the error.
Toronto's housing market is as diverse as its people: ranging in price, size, and location. We pick the top Toronto listing in each category weekly, with this week's focus on a house flip in the East End. Who made the cut this week? Read on to find out.
Here's our top pick in the 6ix.
SO IT WAS A FLIP - WHAT DOES THAT MEAN TO YOU?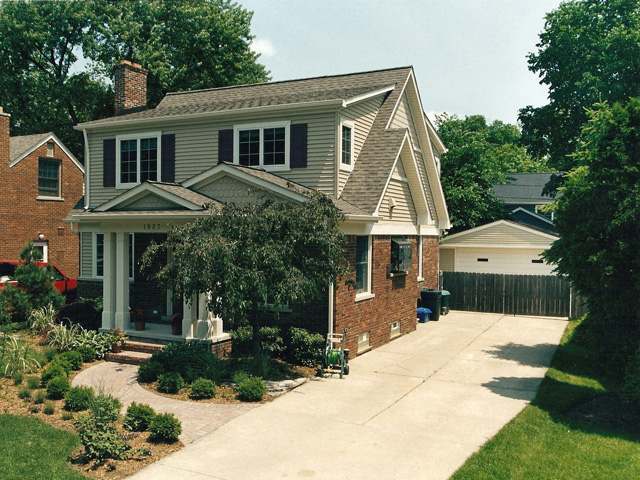 Price: $1,130,000
Neighbourhood: Woodbine Heights, Toronto
If you've been watching listings in the east end this week, then you may have seen an interesting home come up. From first glance, the home is a beautifully modern two story on a decent sized lot in a changing east end neighbourhood – but what you may not know is that only two short years ago the house situated on this lot was actually a bungalow.
Using Realosophy PRO, an exclusive online data tool that overlays listings when my clients and I look them up on Realosophy.com, I was alerted to the fact that this house is being sold after only 2 years of current ownership and that it looked very different in 2014 when it was flipped by previous owners from a modest bungalow to the modern detached house you now see.
Is it back on the market today because of its previous history as a flip?
Now, what is often referred to as a "flip"isn't something new or necessarily bad – renovators, contractors, and investors alike have been tearing down smaller or older houses listed for land value, only to build a brand new home in its place. But what does this mean to you as a buyer? There are many pitfalls that can come up with buying a home, and a flip is no different – if anything, you need to be even more cautious and diligent in your research when purchasing something that has undergone as many changes (cosmetic and structural) as a home that has been completely redone.
WHAT CAN GO WRONG?
First things first: let's talk the actual build and workmanship of the flip - you need to consider the quality of the workmanship that was done. People flip houses to turn a profit, and there are two ways to make more money (as money is the end goal) – sell for a higher price, or reduce your expenses (or a combination of the two). Since there are no promises on what a home will sell for in today's market, one of the easiest ways to increase your bottom line on a flip would be to lessen the expenses through the materials, building processes, and project management used. Materials could be low quality, building processes could be rushed and not followed to code, and instead of hiring contractors and skilled tradespeople the work can be done by the flipper – all of which you do not want.
You're also going to want to watch out for building permits, which are administered by municipalities and are mandatory for certain renovations, ensuring that proper pre, during and post inspections and approvals take place. If you see a home that has been completely torn down and rebuilt, and no permits have been taken out, that could end up being a scary situation for the home buyer. In addition, even if building permits were taken out you need to ensure they were closed – meaning that the city came in and inspected the construction and deemed it was up to code. If the building permit is not closed, you inherit all of the issues if the renovation which could have you racking high expenses in order to get the work completed properly.
Aside from the quality of the renovations, some new home owners may be in for a shock when it comes to property taxes. Much like a new home, the property taxes must be assessed to accurately depict the value of the new build. In 2014 the listing stated that assessed taxes were $2,342, but after the flip/rebuild the listing did not have a stated tax amount – meaning the buyers were taking a shot in the dark at trying to figure out what they would be paying. We know that property taxes are supposed to be based on the value of the home, but since MPAC doesn't always seem to be 100% correct in their valuations in comparison to actual sales prices, it might be difficult for a new buyer to figure out what they will inevitably be paying. Case in point: taxes were assessed at almost $5000 for this house in 2016, which is essentially double what they were on the bungalow version of the home.
WHY HASN'T THIS HOUSE SOLD?
Given that the current owners are selling rather quickly, did they inherent problems from the previous flip? Let's get into the granular details to figure out what is going on with this home. From Realosophy PRO data flags, I can see that:
The home went up for sale over a week ago at an asking price of $999,000
It looks as though the house did not sell on offer night, after which the price was increased to $1.13M (when an agent has used a strategy to under price a home in order to beget multiple offers, they will increase the price to what the sellers are actually willing to accept if it doesn't sell in the time-frame expected)
From the historical sales, I can see that the home was bought in January of 2014 as a bungalow and was then flipped and sold in December of 2014 for almost double what was originally paid for it
Two building permits are still open on the home that were taken out in 2014 – one for plumbing, and the other for the second story addition to the bungalow. This is perhaps the most alarming factor of the above notes. Further investigation may reveal that there is a good reason for this, but as mentioned, not every flip is a good quality renovation, and having building permits open can be an indication that there was a problem.
So is the poor quality of the previous flip to blame? We can't say that for certain.
Realosophy PRO also shows that the current asking price suggests that the home has appreciated by 30% since 2014, whereas the neighbourhood has only appreciated by 24%. Normally, this could mean that the home has been substantially renovated since it was sold last making it more valuable than neighbouring houses (but there's no sign of any permits being taken out by the current owners to suggest that it has been substantially upgraded). It could also mean that the home is overpriced.
It may also be that this neighbourhood itself is less in demand at this price point - over the past two years only 41 out of the 700 sales in Woodbine Heights have sold over $1M – that's just under 6%.
When assessing a property, I'm always driven to uncover the full story - but also to measure it against my clients' particular concerns because none of my buyers have the same ones.
So what do you think? Is this house's building permit history something you'd be worried by? Or does this home present a great opportunity to access modern comforts in a centrally located urban neighbourhood?
Nicole Harrington is a Sales Representative with Realosophy in Toronto. She specializes in using data and analytics to help her clients make smarter real estate decisions, concentrating on Toronto and the GTA, and hosts her own website:SheSellsToronto.com. Email Nicole
Share This Article