Nicole Harrington in Listings of the Week
Toronto's housing market is as diverse as its people: ranging in price, size, and location. I pick a Toronto listing or trend to focus on each week and review it with a professional's eye. What makes a property a great pick - and what makes it a pass?
AFFORDABLE POCKETS FOR CONDOS
A few weeks ago I did an analysis on affordable neighbourhoods for first-time-homebuyers, and one of the critiques I received was that this information was only applicable to those buying freehold homes – which is completely true and may not be the best representation of our changing real estate landscape. With government policies causing shifts in the way we build homes for Torontonians, I felt it would be a good backdrop to focus on one of the biggest trends in real estate today: the condominium. We'll examine how condo values are calculated, where you can get the biggest bang for your buck in the Toronto area and what condo aspects to focus on to help you achieve your goals.
HOW VALUE IS CALCULATED
Let's start off by going over how condos are valued - it shares similarities to the freehold market with the main difference being condo prices are typically calculated on a per square foot basis. What does this mean? Say your condo is priced at $500,000 and is 650 square feet – we simply divide the price by the number of square feet the condo contains. In this instance the example would equate to a price per square foot of approximately $769.
Similar to houses, the price per square foot of a condo typically increases as you get closer to the downtown core or in more built up neighbourhoods.
For example, over the past month the neighbourhoods immediately downtown closest to Union Station showed 95 unit sales of one bedroom condos between 600-699 square feet with an average purchase price of $438,000, or approximately $674 per square foot.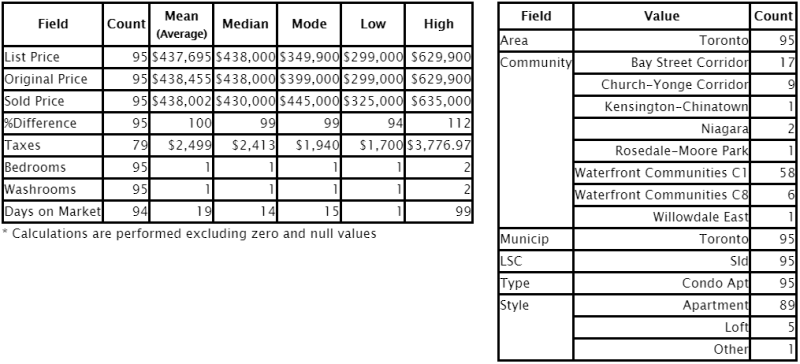 In contrast, when we move a little bit outside the immediate downtown core going west into areas like Trinity Niagara, and The Junction, we can see that the price per square foot is actually lower based on an average purchase price for a 600-699 square foot condo of $405,000. This makes the price per square foot equal to approximately $623, an average of $51 per square foot less than the neighbourhoods mentioned above.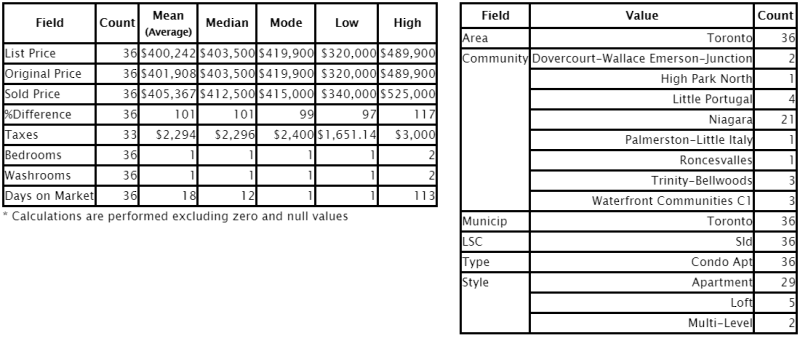 TYPES OF CONDOS
There are two main types of condominiums: condo apartments, and condo townhouses – and depending on what your ultimate purchase goal is, either could possibly be a good fit. If you're looking for an excellent central location right in the core of Toronto, with top notch amenities, then a condo apartment might be what you're looking for. If you're looking for a lower monthly maintenance fee, and a larger unit, then a condo townhouse might be the right fit.
In order to come up with the list of the most affordable condo spots for first-time-buyers we're going to have to make a lot of assumptions. To do this I'm going to use the following scenario as a basis for my analysis:
The buyers are a couple looking for their first condo with a budget of $400,000. They don't have kids, but like the idea of having an extra room for a home office that may some day be turned into a nursery. They also understand that staying in the home for at least 5 years will give them the greatest chance of not losing money on their purchase when transaction costs are taken into account so they like the idea of having room to grow. Based on this, they would be looking for a two bedroom unit over 800 square feet in Toronto.
CONDO APARTMENT
Based on our criteria we can see that there are quite a few condo sales that have happened in the past month matching what our buyer client is looking for. What is interesting to note is that from this image we can see the majority of sales are located outside the immediate downtown core.
What I found most interesting in this breakdown of sales is that, aside of the high level of sales occurring matching out criteria in Scarborough neighbourhoods, Newtonbrook was the next highest neighbourhood for affordable units – it had approximately 5% of the total. Newtonbrook is a north Toronto neighbourhood located in the area around Yonge and Finch and it had an average sale price for all homes of almost $1.1M this past month. The neighbourhood is somewhat walkable (with a walk score of 62) and is very transit accessible – scoring an 82!
What I also found interesting was that the main trend seems to be that neighbourhoods with affordable condos on a price per square foot basis were outside the immediate downtown core.
CONDO TOWNHOUSE
In the same time period as the condo apartment sales, only 15 condo townhouse sales occurred matching our criteria. What's interesting here is that we are seeing a similar story to the condo apartments – sales are occurring, just not in the core of Toronto and not to the same degree as condo apartments. The statistics are showing the majority of sales happening in the Humbermede neighbourhood located at Finch and Weston.
What does this mean? It may take a little longer for you to find something matching exactly what you're looking for as the number of sales are much lower than condo apartments with the same search criteria or that you may need to be open to changing some of your search criteria, i.e., price, location, or size.
THE RULE OF THREE
For many first-time-buyers with strict criteria, there will need to be a line drawn between "must haves" and "nice-to-haves". When looking for a condo to purchase you may have to consider what I like to call the rule of three – which basically refers to three main condo characteristics:
Size of unit
Location/Proximity to Downtown
Price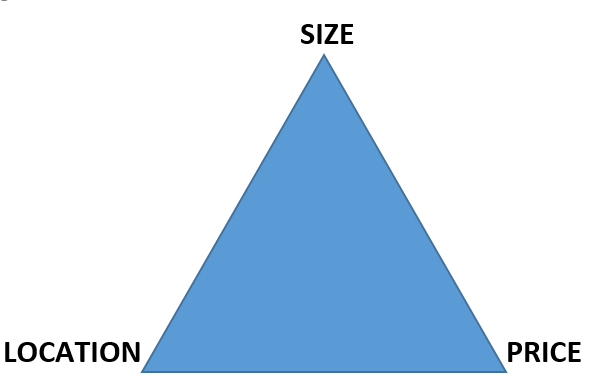 The rule states if there are two characteristics that you are very focused on and are not willing to negotiate then you will likely have to be flexible on the third. What does this look like?
If you need to be walking distance from your work located by Union Station and need to purchase under $400,000 then you will most likely need to be flexible on size.
Or say for example you are very specific about the size of the unit you want and need to be in a certain area, then you will most likely need to be flexible with price.
Taking the rule of three into consideration when searching for your new condo home can help you remain realistic about what you can expect during the process. As you move further outside the downtown core, as referenced in the maps above, you may have a higher possibility of hitting all three of the aforementioned characteristics in your target range (size, location and price). Being flexible in your expectations and having a list with less "must haves" and more "nice-to-haves" can greatly increase your possibility of finding a great fit.
What elements would a condo townhouse or apartment need to have in order for you to make this style of living a top pick?
Nicole Harrington is a Sales Representative with Realosophy in Toronto. She specializes in using data and analytics to help her clients make smarter real estate decisions, concentrating on Toronto and the GTA, and hosts her own website: SheSellsToronto.com. Email Nicole
Share This Article