More home buyers are considering condo style living as an alternative to freehold housing due to the widening price gap between the two types. Although a viable housing choice for many, one gripe that I've heard over and over again in relation to condos are the monthly maintenance fees – it's like throwing your money away.
ARE YOU BETTER OFF BUYING A FREEHOLD TO ESCAPE PAYING MAINTENANCE FEES?
Don't get me wrong: there are many condos in the Toronto area with unreasonably high maintenance fees due to a variety of factors (e.g., condo corporation mismanagement, unexpected expenses, or lawsuits, etc.) – but these maintenance fees help to run the condo and can actually be similar to the costs you would need to cover for a freehold home.
What are Maintenance Fees Used For?
Maintenance fees are calculated by the condo corporation to ensure they are bringing in enough money to pay for expenses and to keep enough in their reserve fund for future costs (think of this like a savings account for the condo). Maintenance fees differ for each condo corporation – generally with a condo apartment they cover items like heat, water, common areas repair and maintenance (e.g., windows, parking garage, lobby, etc.), and building insurance. Some others even cover things such as hydro and cable, although this is less common.
Maintenance fees also cover things like condo staffing (e.g., security and concierge), maintenance to the amenities (e.g., pool and gym), lawn and garden maintenance and snow removal.
That said, it can be seen that condos with more amenities would typically command a higher maintenance fee in order to cover the ongoing expenses associated with them – which is actually quite similar to a home.
What is a Reasonable Maintenance Fee?
As described above, maintenance fees vary based on what is included. They can also vary by the number of units there are in the building (smaller buildings may have larger maintenance fees as there are less residents to split the costs between if they have amenities similar to a larger condo), and are typically calculated on a cost per square foot basis. What this means is that maintenance fees are divvied up among owners by calculating the total cost for the year and dividing it by the number of square feet in the building – each unit owner would then pay their proportionate share of the costs. Parking spaces and lockers are also included in maintenance fee calculations.
Based on my experience when evaluating a condo I typically like to look for a maintenance fee in the range of about $0.50-$0.65 cents per square foot. It's important to look for what is included in the fee as well to see if it is reasonable – obviously if a maintenance fee is covering everything from hydro, heat and water to cable TV it will end up being a bit higher, but generally a good rule of thumb is somewhere within that range.
So how does a freehold stack up? Let's take a look.
The One Percent Rule
The One Percent Rule is a widely recognized rule of thumb which states you should be saving the equivalent of 1% of your home value each year for repairs. For example, if your home cost $500,000 then your annual repair savings should be roughly $5,000. Now, this doesn't mean you will spend that much every year – but having it saved will allow you to have enough money put away when large expenses arise such as repairing or replacing the mechanicals for your home (furnace, A/C, hot water tank) or replacing your roof.
If we take our example of the $5,000 annual home repair savings and break that down into monthly installments, we come up with approximately $417 which should be put away 12 times a year.
In addition to home repairs and maintenance, monthly housing costs for water, heat and hydro are estimated below for a home with forced air gas heating at approximately 1500 square feet:

What do maintenance fees look like in comparison? Check out this example from an MLS listing for a 1300 square foot unit at 25 The Esplanade: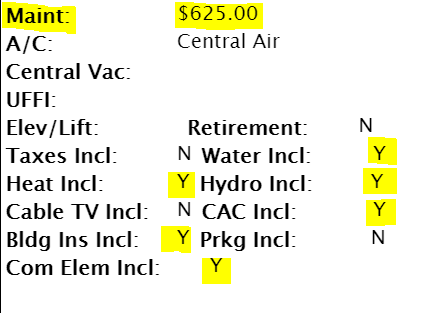 We can see here that the inclusions are water, heat, hydro, building insurance, air conditioning and common elements at a monthly cost of $625.00.
Seeing an additional cost such as $625.00 per month in maintenance fees can definitely sour your thought of condo style living, but when you look at this amount and what you would get in contrast in a freehold the numbers actually don't look so bad. With a condo you will still pay into maintaining the building but will never have to do any of the maintaining yourself.
Condo style living can be great for first time home buyers, young professionals, downsizers, or those looking to live in an area they might not have otherwise been able to afford. Maintenance fees are inevitable whether you live in a condo or a traditional house – what differs is how you pay it and who you pay it to.
Nicole Harrington is a Sales Representative with Realosophy in Toronto. She specializes in using data and analytics to help her clients make smarter real estate decisions, concentrating on Toronto and the GTA, and hosts her own website: SheSellsToronto.com.
Share This Article