This week I wanted to highlight a listing I viewed over the long weekend with clients of mine that were looking for a home in the Bedford Park area. Anyone who knows the area knows it for high ranking schools, detached homes, and a vibrant community – and being close to Yonge Street for restaurants, shops, and subway access doesn't hurt either.
There is usually a fair amount of competition when shopping for a home in this pocket, which is why it seemed strange to me that a completely renovated semi listed for $999,000, under-priced to attract many buyers and spark multiple bids, had been sitting on the market for almost 20 days when the average price for a freehold in the area is over $1.6M.
Using Realosophy Pro, the client version of Realosophy's website (realosophy.com), I was able to see that the home had actually been listed three times prior without selling: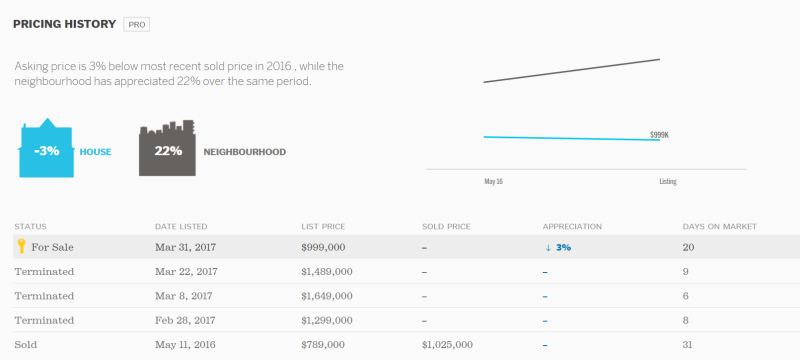 Based on the sales history and building permit information it could be seen that the home had been purchased in May 2016 and completely renovated and then first listed for sale earlier this year. Since being listed for the first time in February 2017 (under-priced with an offer date), it was listed another three times without selling. The previous listing prices are telling; they've tried a variety of different pricing strategies with none of them seeming to have worked.
Now, listed for a fourth time and again not receiving the price the seller wanted on offer night, the property is sitting on the market at $999,000. I believe that the listing agent is staying with this strategy (again to try to spark interest and get multiple bids) because they are reluctant to increase the price to what the seller actually wants, potentially driving away any buyer interest.
So for the real question - why was there such a discrepancy between what the seller wanted and what the market was willing to pay?
From the pictures, the renovated home showed well: modern finishes, open concept kitchen and living area, large rooms – but actually seeing the home in person was a different story.
As soon as we walked in my client was quick to say that the home didn't feel like it was "built with love" – and although hard to make this point tangible, it said a lot: it was very evident that the seller finished this home to make money.
But don't all house flippers intend to make money? Yes, but many take great pride in their work and craftsmanship.
This was not the case here - there were half inch gaps between the floor and the trim, the deck built off the back was unfinished, small, and didn't have stairs going into the backyard area, the door to the powder room on the main floor was raised about two inches and led right into the kitchen (not much privacy there), the shower in the main upstairs bathroom lacked walls or doors, and in my opinion was not large enough to fit a fully grown person in it, and the vanity in the bathroom stood only at hip height.
This also doesn't account for the fact that the materials used to finish the house were of cheap quality – from the pictures it looked like hardwood floors, but in person the floors were a very inexpensive laminate that was not levelled.
In a popular neighbourhood, a newly updated house should attract a lot of buyer interest, but not when the renovator has cheaped out on finishes - ripping out all of the work done and refinishing is also an option, but many people see this as a waste. Potential buyers start to wonder what else is hiding behind the walls (and most people don't want to take that chance). The seller would likely have been able to get more interest in the property if they had left it in it's original, non-renovated state.
Moral of the story? Know your demographic if you're planning on renovating a home to sell it - and don't cheap out. And, of course, when it comes to flips, buyer beware - make sure you fully understand the history of a renovated home.
Nicole Harrington is a Sales Representative with Realosophy in Toronto. She specializes in using data and analytics to help her clients make smarter real estate decisions, concentrating on Toronto and the GTA, and hosts her own website: SheSellsToronto.com.
Email Nicole
Share This Article