With the surge in real estate prices over the past few years, it's not a wonder that the Toronto real estate market has seen an uptick in the number of homes being flipped, i.e., homes that were purchased, renovated and put back on the market in a short period of time to produce a profit for the renovators. There are certain renovations which provide the highest returns and these are the ones that are typically focussed on during a flip. One way to easily add value to a home is to create parking where there was none before, which can add $20,000 - $30,000 in value depending on the location and type of parking provided.
NOT ALL PARKING IS LEGAL
What many of these home flippers have done is create what is called 'front pad parking', which essentially looks like a parking spot in front of the home. This is achieved by paving over an area of the front lawn which typically provides parking for one vehicle and it looks a normal driveway. What's important to note here is that you cannot just pave over a portion of your front lawn and call it a parking space – even if it is your own private property. In the City of Toronto, all front pad parking must be permitted – meaning you must make an application to The City and have it approved in order for your parking to be legal. If your parking is not legal, you run the risk of being ticketed for parking on your own property. Not a fun thing if you move into a home that you think had legal parking, only to find out after that it does not – not only would you have paid a premium on the home for the parking spot, but you might not have anywhere to actually park your car (as many of us know, Toronto street parking is scarce).
Couldn't you just apply for legal front pad parking after moving in? That's definitely an option, but over the past few years there has been a real push from city officials to ban front pad parking altogether – for cosmetic and environmental reasons. At this point, it's extremely difficult (if not impossible) to have a new front pad parking permit registered with the city.
How can you protect yourself?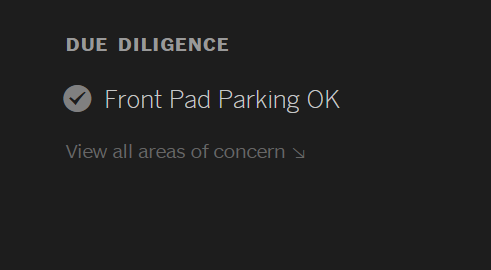 Credit: Realosophy.com
You should contact the City of Toronto to verify that the advertised parking on a property is in-fact registered and legal – the last thing anyone wants is to start getting $30.00 tickets each night for parking on their own property. This is something you can by calling or visiting the City of Toronto website. If you are a buyer working with a real estate agent, they should ensure this verification is being done. At Realosophy, our clients have access to PRO data as part of their online realosophy.com account which gives them this information at a glance 24/7 while they are browsing homes.
So make sure your parking space is what it appears to be - before you buy it.
Nicole Harrington is a Sales Representative with Realosophy in Toronto. She specializes in using data and analytics to help her clients make smarter real estate decisions, concentrating on Toronto and the GTA, and hosts her own website: SheSellsToronto.com.
Share This Article