John Pasalis in Toronto Real Estate News, Home Buying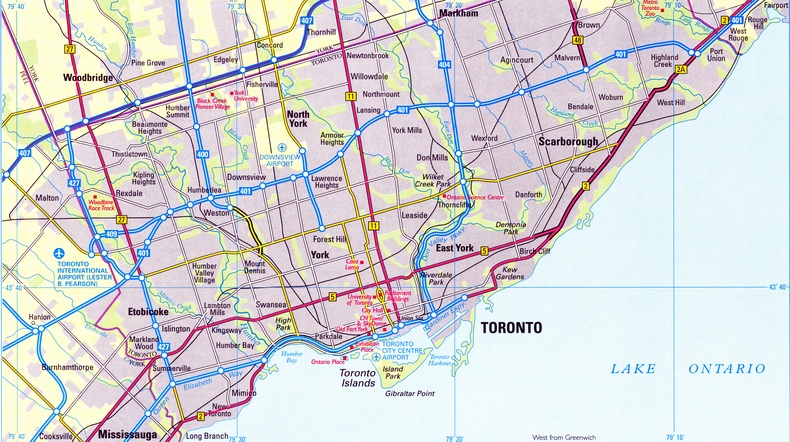 I recently stopped by TVO's The Agenda to discuss the latest market stats with the Toronto Star's Tess Kalinowski, and host Nam Kiwanuka talked about personally feeling powerless as a would-be home buyer due to uncertainty about where the Toronto & Greater Toronto Area (GTA) real estate market is heading.
Being a home buyer in a slowing market without the right information is like walking over a recently frozen pond - we're just hoping that our next step is a solid one.
Most people look at what is going on in the GTA real estate market as a whole when trying to decide whether or not to buy, hanging their decision on the timing - whether it is a good time to buy right now. In doing this, they miss out on a far savvier strategy - to pose the question geographically, making it a question of whether it is a good time to buy here right now - because the 450+ neighbourhoods in the GTA are moving in different directions.
My biggest concern right now is that buyers who should be more confident about buying because they are looking in solid neighbourhoods that are offering a bit more value right now are pulling back in fear, while other buyers, tempted by the thought of snagging a deal, are jumping into neighbourhoods that have already seen prices fall and are vulnerable to bigger declines in the future.
One of the key metrics we use at Realosophy to compare neighbourhoods is something called the Months of Inventory (MOI). The MOI tells us how long it would take for all the homes that are currently on the market to sell. A neighbourhood that has 100 homes for sale and has seen 50 homes sell in the past 30 days has 2 months of inventory. Similarly, a neighbourhood with 100 homes for sale that has had 10 homes sell in the past 30 days has 10 months of inventory.
The months of inventory is a very important metric because declines in prices are usually preceded by a steep rise in the MOI. Knowing the MOI today and which way it's moving gives us an indication into which way prices are likely to move in the future.
The market is generally considered to be balanced – which means prices are neither rising nor declining very much - when the months of inventory is between 4 to 6 months. When the MOI is under 4 months, prices are usually rising, and when it is over 6 months, prices are generally falling.
The chart below shows the number of neighbourhoods in the GTA based on their current months of inventory for freehold houses (detached, semi, row house and non-condo townhouses, etc.).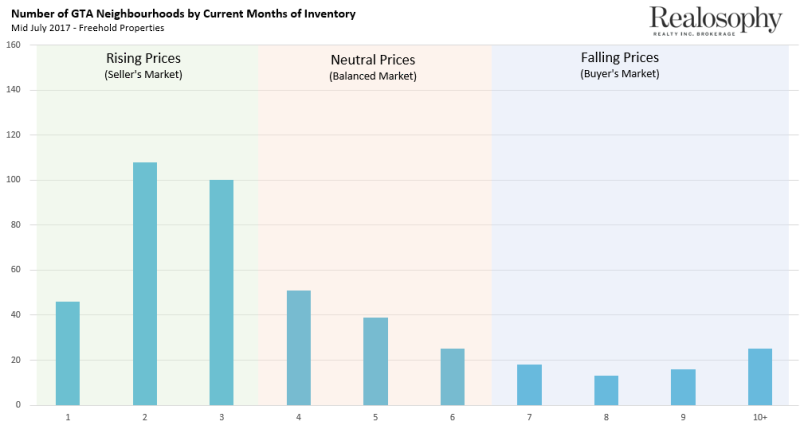 Roughly 58% of all GTA neighbourhoods are in seller's market territory where prices normally rise, 26% of neighbourhoods are balanced and 16% of neighbourhoods (72 in total) have over 7 months of inventory already.
It's these 72 neighbourhoods, spread across the GTA, that we are advising our clients at Realosophy to either avoid or consider only if they are able to buy with a steep discount in price to offset further price decreases.
The risk with these 72 neighbourhoods is that their inventory has been trending up over the past two months which has already pushed them into a range where prices have started to fall. While we can't say for certain whether prices will continue to fall or by how much, we can say that if you're buying in one of these 72 neighbourhoods you're definitely more vulnerable to further price falls.
Here's a good way of thinking about how these numbers can impact you in the future. Suppose the GTA sees average house prices fall a modest 10%. We need to remember that this is just an average which means some neighbourhoods will fall by less and others by more. The neighbourhoods with 1-3 months of inventory today might eventually decline by 0-5%, the neighbourhoods with 4-6 months of inventory might fall by 10% and the neighbourhoods with 7+ months of inventory might fall between 15-25%.
Knowing the MOI for the neighbourhoods you're considering and which way it is trending allows you to take your next step forward (a bit) more confidently in a slowing market.
In my next blog post, I'll walk you through two different neighbourhoods to highlight some of the underlying differences that may have led one neighbourhood to have 2 months of inventory (and thus remain competitive even in a slowing market) vs a neighbourhood oversupplied with 8 months of inventory.
And if you want to drill down a bit more into the stats, I'll be hosting a talk in September where I'll walk through some of the specific neighbourhoods to avoid along with other red flags to watch out for during your home search. Sign up below.
John Pasalis is the President and Broker of Realosophy Realty Inc. Brokerage in Toronto. Buying a house or condo this spring? A leader in real estate analytics and pro-consumer advice, Realosophy helps clients buy or sell a home the right way. Email John
Share This Article