Is the market too unsettled to be considering a move?
With a certain level of uncertainty in the Greater Toronto Area (GTA) housing market, many homeowners are wondering what their next move should be - or if they should even be considering a move due to the precariousness of current economic conditions.
For those who are living in a home that currently suits their needs, the decision to stay put can be an easier one, but what about the empty nesters and retirees that have too much home to handle or who have excessive amounts of equity built up in their residence that could be put to better use in funding their post retirement lifestyle? The decision can be much more complex and pressing.
"Is it the right time to downsize?" is akin to the age old question "Is it the right time to sell?" - with a few added complexities. Not only are you going to want to be aware of current market conditions on a micro and macro scale, but you're going to need to take a deep dive into the personal component of home selling by answering the five w's: Where, what, when, why and who?
Where: Where will you move to? Do you want to be closer to friends and family, or are you looking to cash out of the GTA market and move further outside of the city?
What: What kind of property do you want to live in - are you looking for a lower-care condo, or do you want to stay in a freehold? How much upkeep are you comfortable with?
When: When do you hope to move? How do market conditions and personal financial considerations impact your desired timeline?
Why: Why do you want to move, what is your motivation, and how will this process help you reach your goals?
Who: Who will help you realize your financial and personal timeline - which financial planners, mortgage brokers, realtors and lawyers? Do you have a team you can trust?
Once you've determined that downsizing may work for you personally, it's important to get a firm understanding of the economics impacting your neighbourhood and home value. While it's impossible to time the market exactly, by examining historical sales patterns you may be able to work out a better timeline in which to reach your goals.
One of the key metrics we look at at Realosophy to determine viability and future potential of a neighbourhood is a measure that combines both supply and demand - Months of inventory or MOI. MOI shows you the number of months required to sell through all homes currently on the market while maintaining current levels of demand.
Neighbourhoods with over 6 months of inventory are considered to be in a buyer's market where there is a higher potential for falling prices, versus neighbourhoods with under 5 months of inventory that are considered to be in a seller's market (subsequently, we are more likely to see prices rising in these areas).
The GTA as a whole is sitting roughly around 3 months of inventory, which is a positive sign for sellers. That said, this is not representative of all areas in the GTA.
GTA Months of Inventory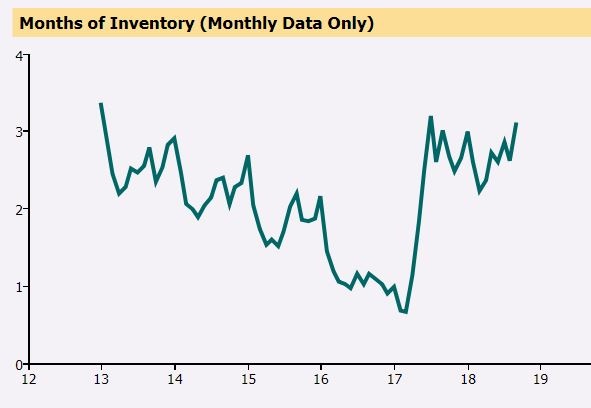 Credit: TREB
Take for example Richmond Hill as a whole - from the chart below we can see that MOI levels are hovering just around 6 months right now, but that since mid 2017 these measurements have not shown stability.
Richmond Hill MOI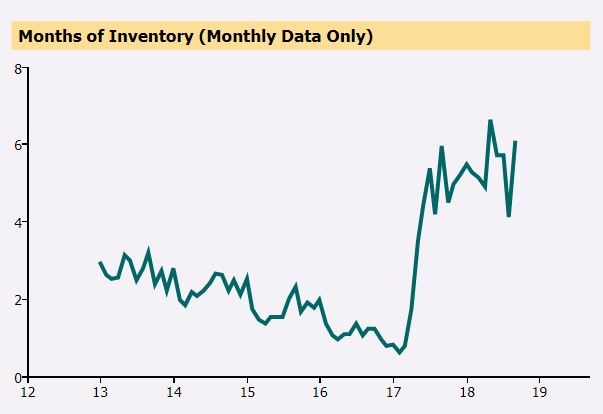 Credit: TREB
These levels are a stark contrast to the GTA as a whole, as many other Toronto area cities are faring well overall. In addition, on a micro level there are some Richmond Hill neighbourhoods with a lower than average months of inventory, which means that within the municipality there can be many different economic conditions to consider.
Suffice to say that once you have determined your personal situation and goals, it's important to review economic and housing conditions on a micro level to better craft your downsizing timeline.
If you're interested in learning more about current market conditions in your area, red flags to watch out for, and other pertinent downsizing considerations, I will be hosting an advice event partnered with RBC on November 27 in Port Credit. Send your full name and number of guests attending to nicole@realosophy.com by November 18th to reserve your spot - spaces are limited.
Top image credit: Aleutie
Nicole Harrington is a Sales Representative with Realosophy Realty Inc. in Toronto. She specializes in using data and analytics to help her clients make smarter real estate decisions, concentrating on Toronto and the GTA, and hosts her own website: clarksonvillagerealestate.com.
Share This Article