John in Toronto Real Estate News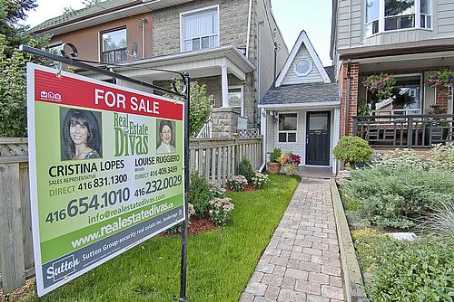 The Little House at 128 Day Avenue in the Dufferin and Rogers area recently went on the market (check out the listing on mls.ca). The house is located in Toronto's Fairbank neighbourhood (see Realosophy's Fairbank neighbourhood profile for local school and housing stats).
This 300 square foot home was purchased in April by David Blois who renovated and recently listed it for sale with the 'Real Estate Divas' at Sutton Group Security Real Estate for $189,800.
Toronto contractor Aurthur Weeden built the home in 1912 on a narrow strip of land that the city forgot to turn into a proper driveway. The lot is just 7.5 feet wide and 113 feet deep.
"Although it is small, it has everything that you need," Sutton Group realtor Louise Ruggiero said. "If you wanted a place to live in mid-town Toronto for that kind of price, it would be very difficult to find, except in a condo-loft situation. This can give you that feeling, but it also gives you a front garden, a beautiful rear patio and parking right behind it."
The seller is holding back on offers until Friday September 28th.
John is a sales associate at Prudential Properties Plus in Toronto and a founder of Realosophy. Email John
Share This Article