John in Toronto Real Estate News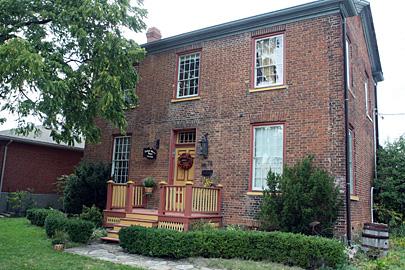 Photo: RON BULL/TORONTO STAR
The historic Samuel Mercer House on Old Burnhamthorpe Road is believed to be Toronto's oldest privately owned building. The five-bedroom home was recently listed for sale with Re/Max West Realty for $749,900. The home is located in the Toronto Centennial Park neighbourhood (check out Realosophy's Centennial Park neighbourhood profile for local school and housing stats). You can check out the home listing on MLS.ca here.
From the Toronto Star:
The family built their two-storey home on top of a slight hill, flanked by black walnut trees, one of which still stands. Workers raked the nearby creek for clay to fashion bricks they laid in the Flemish bond style, an expensive construction method at the time. Though Samuel Mercer died in 1830, the house stayed in the family for several generations.
The Mercers left no records about the building, though some say the home's layout, with a sitting room on each side of the centre hall and a second floor that could easily turn into an assembly room by pushing back a set of folding doors, indicates it might have been used as a halfway house for traveling soldiers. Others speculate it served as an inn before becoming a family home, as it is now.
Read the full Star article here.
John is a sales associate at Prudential Properties Plus in Toronto and a founder of Realosophy. Email John
Share This Article