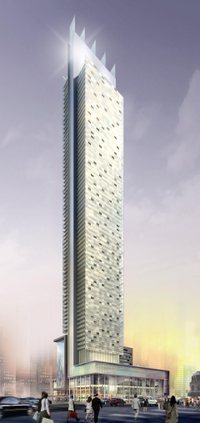 Toronto's most well-known intersection is about to get a significant facelift. Anyone walking by Yonge and Bloor these past few months may have noticed banners above the City Optical on the southeast corner advertising a new condominium project. The project is appropriately called 1 Bloor and is being developed by Kazakhstani firm Bazis International.
Bazis is the developer behind another Yonge and Bloor condo called Crystal Blu which is currently under construction. The developer has big plans for 1 Bloor. The building will house commercial tenants on the street level, a 5-star hotel on the first six floors (132 rooms) and residential units on the remaining floors with a total of 564 condo apartments. At 80-storeys this will be the tallest residential/commercial building in downtown Toronto.
One interesting feature of this building is that it will offer residents balconies off every room. The builder didn't like the idea of concrete balconies protruding from their buildings facade so they developed an innovation that they describe as being "so new and so dramatic that there isn't a word or phrase to describe it in the architect's lexicon."
Their innovation will convert many of the balconies into a form of the Thai lanais, an outdoor space that can be partly closed in cool or windy weather. The balconies will have a sleeve of etched and clear glass joined by sparkling aluminum that will result in a spectacular effect.
"What it does is give the tower an ever changing face," says Roy Varacalli, director of design and construction for Bazis International. "The exterior changes like pixels on a television screen. On windy days when residents want to enjoy their lanais they will slide the etched glass panels across parts of the balcony to block the winds. The facade will look completely different from warm sunny days when those panels are slid back to allow maximum exposure to the sun and breezes."
John is a sales associate at Prudential Properties Plus in Toronto and a founder of Realosophy. Email John
Share This Article