Donald Trump will be in Toronto on Friday October 12th for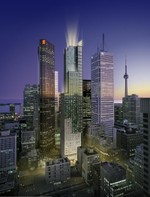 the official ground breaking of Trump Tower at the corner of Bay and Adelaide. Canadian billionaire, and the money behind this project, Alex Shnaider will also be on site.
This project has had its fair share of hurdles. After a failed partnership with the Ritz Carleton hotel group, the project re-launched in 2004. Despite a highly publicized battle with Harry Stinson's now defunct Sapphire Tower for the title of tallest residential condo in Canada, sales for Trump Tower never really picked up. In July of this year, the developers announced that they would be cutting their condo down in size to 57 floors from the 70 they originally planned to build.
I am sure this ground breaking will come as a bit of a surprise to the many real estate pundits who doubted the project would ever start construction.
John is a sales associate at Prudential Properties Plus in Toronto and a founder of Realosophy. Email John
Subscribe to Move Smartly by Email
Related Posts:
Harry Stinson Sapphire Tower: Why Every Real Estate Investor Needs a Good Lawyer
Share This Article