Urmi in Toronto Real Estate News, Urban Issues, Lifestyle
Some good news on the housing
front for recent immigrants to Canada has me thinking about integration issues this week. Not necessarily a good thing
for the poor old mentality, because thinking on this front generally hurts the deeply-conditioned mind. Pity Pavlov's
dogs.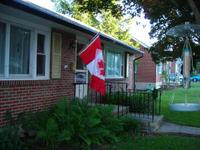 First, the housing news. A new study released by Genworth Financial Canada, a mortgage default
insurance provider, reveals that immigrants are prioritizing - and
realizing -their dream of owning a home. 91% of recent immigrants
polled in Canada's major cities (Toronto, Vancouver, Montreal, Calgary
and Ottawa) listed owning a home a top priority, with 54% successfully
climbing onto the property ladder, in spite of challenges, within three years (on average) of
coming to this country. University of Alberta Professor Michael Haan, a leading expert on the
immigrant homeownership experience in Canada, suggests that immigrants are able to persevere because they have more to prove psychologically: "Some international academic studies have
strongly suggested that immigrants place a higher importance (than
native-born residents) on homeownership, and that they have additional
incentives for ownership, such as demonstrating success and permanency
to themselves and others." These stats are good news for those interested in Toronto's booming housing market and worried about potential real estate bubbles. Tangible consumer demand fueled in part by immigration is made of stronger stuff than demand fueled by the frenzied speculation of investors.
For those who hold that immigration is key to Canada's continued economic growth on other fronts, the recent Stats Canada release is also manna from heaven. Almost 50% of the GTA's population is now foreign-born, moving Toronto ahead of New York and Los Angeles in the diversity sweepstakes. The success that recent immigrants have enjoyed when it comes to buying a home no doubt contributes to the magnetism of Toronto. During a debate held earlier this year, Toronto City Councilor Olivia Chow momentarily stymied her counterparts from New York, London and Sydney with her feisty pitch to young and talented would-be immigrants: move here and chances are you won't have to buy in the boondocks. (The DVP, presumably, is purgatory of another kind.) But Chow needn't underestimate the even farther flung. Stats Can's latest 2006 Census data reveals that newer arrivals are flooding into the suburbs around Toronto,
bypassing the once common stopover in the city's core. Markham leads
the way with 56.5% of residents foreign-born, with Richmond Hill and
Mississauga close behind at 51%.
So far, so good. But what happens when Toronto, City of Neighbourhoods, becomes home to even more immigrants who form ever-larger communities with their own schools, malls and places of worship? Neighbourhoods are to Toronto what multiculturalism has been to Trudeau's Canada. In what has become a familiar quest to slay the once-loved dragon, the Globe and Mail's Marina Jimenez recently questioned the merits of Canada's multicultural model. As with other writings on the subject, it's the missing blanks that concern me. Most notably, Jimenez tells us that:
Another troubling development is the increase in Toronto, Vancouver
and Montreal of ethnic enclaves where more than a third of residents
are from one visible minority group. While some of these 254
neighbourhoods, such as Richmond, B.C., are well-heeled, others are
marked by poverty.
This is followed by an exercise in pointing out the obvious - the violence and poverty of largely-immigrant Flemingdon Park makes all of us nervous. But the author doesn't elaborate on why more prosperous enclaves should also make us uneasy. For that matter, what it is that makes visible ethnic minority enclaves - and not their non-visible or religious counterparts - particularly worrisome isn't fully explained. On what basis does cohesion become a liability?
While Canadian politicians have long encouraged us to identify with our
particular backgrounds (and their superimposed images), commercial
interests, from real estate developers to media moguls, have also helped themselves by helping us congregate at any price point. Jewish speed dating circles, Greek retirement
communities, Chinese-language banking services and various religious
schools are on offer throughout the GTA. In urban settings, the proximity of one service to another means that users need not confine themselves to the categories they may have been born into - the model is generally opt-in and the dimensions quite expansive. The latest housing boom in
Toronto is no exception. Real estate sections in leading papers
and internet services such as Realosophy work towards empowering
consumers with an evermore granular look at neighbourhoods - by
independent schools offered, by languages spoken, by faiths practiced.
Toronto properties are being advertised as community lifestyles to
would-be immigrants and overseas investors. A growing number of real
estate support service providers such as Genworth
focus on serving this key segment with
multilingual guides and services.
If like-minded congregating is not new to us, at what point does it become "troubling"? Perhaps the context has changed. Overall levels of immigration are higher, immigrants hail from a wider range of countries (the last time we reached these immigration levels, in the 1930s, a
European-only immigration policy was in effect), individual
communities are now weightier and 'single group' neighbourhoods are no longer stopovers but permanent arrangements. Recently, a good friend wondered if the appearance of foreign language malls and large Asian ethic enclaves in Markham and Brampton had "pushed us too far." Because these communities were relatively prosperous and well-populated, the theory went, its inhabitants were not as willing to integrate as others were before them. In response, I couldn't help noting that my friend, who is Canadian-born and of Southern European descent, has a disproportionately high number of friends from his own background. The difference, to my mind, was one of degree not genus.
Why do we congregate in the first place? Jimenez suggests that trust may be a factor. One North American study suggests that levels of trust are lower in mixed rather than uniform neighbourhoods; another suggests that neigbourhoods that are mixed but without white inhabitants have higher levels of trust (and vice-versa). But these studies fail to shine a light on the curiosities that are the Toronto neighbourhoods I know. If South Asians in Brampton choose to live together because they trust each other more, what does one make of the history that has kept these very people segregated in their homelands? Once questioned about his own tendency to congregate, my sheepish Southern European companion revealed a deeply-felt need to share similar notions of hospitality and friendship. This makes more sense to me than 50 Decima polls put together. Does proximity make it easier to leave your children with a Punjabi neighbour who understands their dietary needs even if you are Gujarati? As an elderly Chinese person, is it important to be able to walk to Tai Chi in the park with a friend or build a local church together? It would be far more instructive to understand a day in the life of every single Torontonian than it would be to know where she lives or how Canadian she feels (please rate on a scale
of 1 to 10).
The prevalence of distinct neighbourhoods coloured by a single language, religion or nationality are indicative of Toronto's recent history - of multiculturalism, of conditioning, of choice. As each of us instinctively pursues the lifestyle that feels right for us, we collectively risk crossing an ephemeral line. When does one person's home block another's view?
Urmi Desai is an economic analyst and a freelance writer specializing in urban issues. She is editor of the Move Smartly blog. Email Urmi

Share This Article