John in Toronto Real Estate News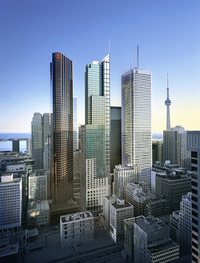 According to figures released this week, condominiums in Toronto's central core and west end appreciated more than detached homes in 2007. A first for Toronto's changing real estate market.
Condominiums in the central core appreciated by 12.2% in 2007 compared to 11.5% for single detached homes. West end condominiums appreciated by 7.3% compared to 6.6% for single detached homes. These stats generally capture activity in the resale market.
Last month, we heard that 2007 was the first year in Toronto's history that saw new condominiums outsell new low rise homes.
This is very big news for Toronto home buyers. Traditionally, the detached home has been the 'smarter investment' for home buyers who are more concerned about the appreciation of their home's value than the many lifestyle benefits that condos offer.
But have the tides finally turned? Are condominiums now becoming the smarter investment for Toronto home buyers? Buyers are advised to keep an eye on this emerging trend.
John Pasalis is a sales associate at Prudential Properties Plus in Toronto and a founder of Realosophy. Email John
Photo: Trump Tower, Toronto

Share This Article