John Pasalis in Toronto Real Estate News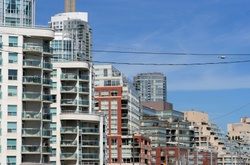 The Globe and Mail reports that the Toronto condo market is cooling off as fewer investors are buying pre-construction condominiums. From the article:
Brad Lamb, one of the city's most prominent real estate agents, has noticed the pinch. "Of what we expected to sell in a month," he said, "we are now selling half. ... We've come down to earth."
The change appears to be the result of investors, looking to rent or quickly sell multiple condo units, beginning to balk at rising prices and reports of a weakening economy.
Although there are no definitive statistics on the number of investors in the market, Jane Renwick, executive vice-president of Urbanation, estimates they snapped up as much as 60 per cent of units in some large, downtown developments last year. "We're expecting investor activity to slow," she said.
At Mr. Lamb's firm, meanwhile, "investors would now take a quarter" of the units in a typical project, down from half in 2007, he said.
It's interesting to hear prominent condo broker and developer Brad Lamb say that sales to investors are roughly half of what they were last year. It is also interesting to read that Brad Lamb and Jane Renwick both believe that investors accounted for 50%-60% of total condo sales last year. In their recent forecast of Toronto's condo market, CMHC assumed that only 30% of condo sales were bought by investors (See CMHC Analyst Weighs in on Toronto's Condo Market). Investor participation is an important variable when forecasting the condo market so any major discrepancy in this number will significantly impact the accuracy of CMHC's forecast.
John Pasalis is a sales associate at Prudential Properties Plus in Toronto and a founder of Realosophy. Email John
Subscribe to the Move Smartly blog by email
Related Posts:
No Crash Expected for Toronto's Condo Market: CMHC
Share This Article