John Pasalis in Real Estate Trends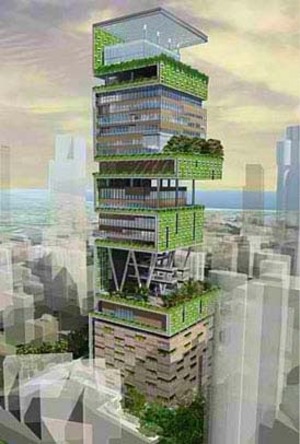 I just came across a Forbes article covering the world's first billion dollar home. The home is being built for Indian billionaire and fifth richest man in the world, Mukesh Ambani. The house, called Antilla, will be a 550 ft high 27 storey building in the heart of Mumbai. With construction costs of close to $2B, the Antilla will be the most expensive house in the world.
From the Forbes article:
The Ambani home, called Antilla, differs in that no two floors are alike in either plans or materials used. At the request of Nita Ambani, say the designers, if a metal, wood or crystal is part of the ninth-floor design, it shouldn't be used on the eleventh floor, for example. The idea is to blend styles and architectural elements so spaces give the feel of consistency, but without repetition.
Antilla's shape is based on Vaastu, an Indian tradition much like Feng Shui that is said to move energy beneficially through the building by strategically placing materials, rooms and objects.
On the health level, local plants decorate the outdoor patio near the swimming pool and yoga studio. The floor also features an ice room where residents and guests can escape the Mumbai heat to a small, cooled chamber dusted by man-made snow flurries.
For more temperate days, the family will enjoy a four-story open garden. In profile, the rebar-enforced beams form a "W" shape that supports the upper two-thirds of the building while creating an open-air atrium of gardens, flowers and lawns. Gardens, whether hanging hydroponic plants, or fixed trees, are a critical part of the building's exterior adornment but also serve a purpose: The plants act as an energy-saving device by absorbing sunlight, thus deflecting it from the living spaces and making it easier to keep the interior cool in summer and warm in winter. An internal core space on the garden level contains entertaining rooms and balconies that clear the tree line and offer views of downtown Mumbai.
A few more facts about the house:
the building will feature 400,000 square feet of interior space; "only" around 45,000 will be used as the Ambani's private residence
6 level parking garage with room for 175 cars
9 elevators
a grand ballroom with a silver staircase and a ceiling that will be 80% covered in crystal chandeliers
4 storey open garden
an entertainment level with a 40 seat movie theatre and wine room.
a health level with a lap pool, yoga studio, dance studio and of course the ice room mentioned above
The following renderings are from Forbes.com.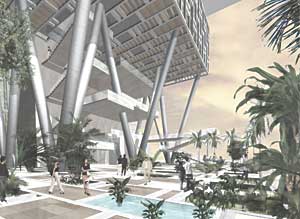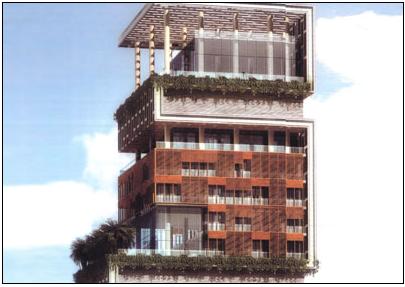 John Pasalis is a sales associate at Prudential Properties Plus in Toronto and a founder of Realosophy. Email John
Share This Article