John Pasalis in Real Estate Trends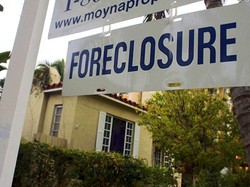 The Mortgage Bankers Association of America (MBA) released some staggering statistics yesterday. More than 1 million homes, 2.5% of all loans serviced by the MBA, are under foreclosure. The seasonally adjusted number of home owners who are at least one payment behind on their mortgage reached a record high last quarter. Nearly 3 million home owners or 6.35% of all loans outstanding are behind on their mortgage, the highest level since the trade group started collecting this data in 1979.
While most of the press has been focused on default rates for subprime mortgages in the US, it is worth noting that prime mortgages have also seen sharp increases in their delinquencies. Prime mortgages are lower risk than subprime and typically have lower delinquency rates. Prime loans make up nearly 40% of all homes in foreclosure.
A couple of different factors impacted delinquency rates in the prime loan market. CNN reports that so-called Alt-A loans, loans that did not require any income verification from borrowers with strong credit, are one of the factors behind the rise in prime delinquencies. Adjustable Rate Mortgages (ARMs) also led to an increase in delinquencies in the prime loan market. ARMs (not to be confused with variable rate mortgages) are mortgages that would start out with low "teaser" interest rates and mortgage payments only to have the rates and payments balloon, usually to levels beyond the financial reach of the home owner.
ARMs account for nearly 60% of all foreclosures in the US, prime and subprime markets combined.
Nearly half of the homes in foreclosure are concentrated in six states. But those states are undergoing two very different types of housing meltdowns.
California, Florida, Arizona and Nevada have been hit by a hangover after a home building boom in the middle of the decade, which was fueled by rising home prices and investors snatching up real estate using risky mortgages. Those four states have nearly 400,000 homes in foreclosure, or a third of the nationwide total. Roughly 3.6% of all of the loans in these states are now in foreclosure.
"Clearly things in California and Florida are going to get worse before they get better," said Brinkman.
The other two states that are ground zero for the crisis - Michigan and Ohio - have been hit by the more traditional economic woes stemming from rising job losses, particularly in the automotive sector.
Ohio has about 61,000 homes in foreclosure, while Michigan has about 54,000. The foreclosure rate in those two states is 3.9%.
John Pasalis is a sales associate at Prudential Properties Plus in Toronto and a founder of Realosophy. Email John
Share This Article