John Pasalis in Real Estate Trends
The Globe and Mail interviewed me for an article published this weekend about a local real estate site called Housing123.com that the Canadian Real Estate Association (CREA) threatened to sue if it wasn't shut down.
Housing 123 was downloading MLS information to their site allowing their users to search and browse homes on a Google map interface. MLS.ca, the real estate search site operated by CREA, does not have any mapping functionality making it difficult for users to search for homes in a particular area. The sites founders, Travis Fielding and Kevin Lai, launched Housing123 to ease their own frustrations with searching on MLS.ca
The problem with the site was that the entrepreneurs were downloading MLS data without the permission of the real estate boards or the brokerages who own that data. This violates the copyright laws that protect MLS information.
While I am a supporter of innovation in the real estate industry, CREA's decision to shut down the site was ultimately the right one. An entrepreneur may not agree with all of the laws or policies that govern the real estate industry, but they are obligated to work within them. Housing123 wasn't doing this.
What I find a little more interesting than the story about Housing123, is an issue that the writer, Hayley Mick, touched on in her article.
Unlike the US market, Canadian real estate brokerages are not allowed to display all available homes for sale on their own brokerage websites. This means that if you go to a Re/Max site for example, you'll only see Re/Max listings on that website. Most people who are searching for homes use MLS.ca because they want to see all available homes for sale, not just the ones from a particular brokerage.
Why is this a problem? Because the policies that prevent brokerages from displaying all MLS data on their sites also restrict brokerages from competing against each other on the basis of technological innovation. Let me explain.
Re/Max has had mapping functionality integrated into their home searches for quite some time now. Here's a screen shot of their website.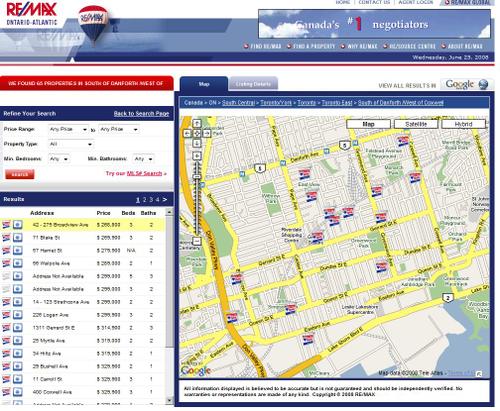 Century 21 also has an innovative mapping interface as part of their site. See below.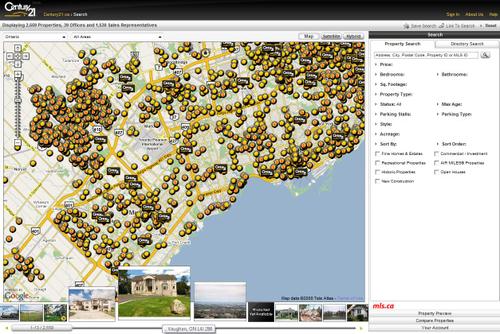 Both of these companies have invested heavily into building innovative websites that are effectively useless to the average home buyer because they only display a subset of the available listings on the market. Just to be clear here, it's the missing data that limits the value of these sites, not their technology. If consumers don't see the value in these websites than it's hard for brokerages to differentiate themselves by building an innovative website. No matter how innovative their site is, it will never be seen as a substitute to MLS.ca or any other brokerage site for that matter.
If real estate boards allowed brokerages to display all available listings on their websites, they would be allowing competitors to challenge MLS.ca? Brokerages could use technology as a way to differentiate themselves from their competitors. Brokerages would be competing against each other to be the dominant real estate search site in Canada. The brokerage with the most innovative website would have more home buyers searching for homes on their site. If these brokerages had all of the listings on their map-based sites today, two frustrated home buyers would probably never have created Housing123.com.
The policies that allow brokerages to display all available listings on their websites have existed for some time in the US and many new innovative websites have been built as a result. The difference between Canada and the US is that the Department of Justice in the US is far more litigious when it comes to ensuring fair competition in the real estate industry. Our competition bureau, at least up until now, is far quieter about these types of issues.
Most realtors cling to the belief that the best thing for our industry is to keep our listings as close to our chest as possible, not even sharing them with our own members. I firmly believe that allowing brokerages to display all available listings on their websites is not only good for consumers - it's great for brokerages. As brokerages build better and more innovative sites, they will inevitably have more people on their sites.
For now, consumers will have to stick to MLS.ca, which will be integrating a new mapping interface this summer. According to the Globe's report, consumers shouldn't anticipate any more changes to the site beyond that.
John Pasalis is a sales associate at Prudential Properties Plus in Toronto and a founder of Realosophy. Email John
Share This Article