John Pasalis in Toronto Real Estate News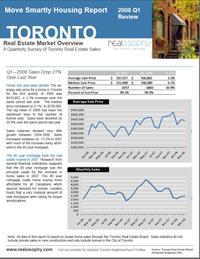 Last week we released our Q1 2008 Move Smartly Housing Report which offers a detailed summary of real estate sales by neighbourhood. Readers can subscribe to the report at www.realosophy.com
The average sale price for a home in Toronto for the first quarter of 2008 was $410,862, a 3.3% increase over the same period last year. The median price increased by 6.1% to $330,000. The big news in 2008 has been the significant drop in the number of homes sold. Sales have declined by 20.9% over the same period last year.
Sales volumes showed very little growth between 2004-2006. Sales increased suddenly by 13.5% in 2007 with much of the increase being attributed to the 40 year mortgage.
Research from several financial institutions suggests that the 40 year mortgage was the principal cause for the increase in home sales in 2007. The 40 year mortgage made home buying more affordable for all Canadians which spurred demand for homes. Lenders found that a very material amount of new mortgages were opting for longer amortizations.
Many industry watchers have started comparing 2008 sales to 2006 because the record heights reached in 2007 make it a bad year to compare current sales to when trying to assess the health of the real estate market.
The effects of the 40 year mortgage were not felt until the second quarter of 2007. Sales in the first quarter of 2007 were virtually unchanged from the 8,646 sales in the first quarter of 2006. When we compare first quarter 2008 sales to first quarter 2006 we see that sales have still declined by over 20%.
Homes priced under $250,000 saw the largest decrease in sales volume with a 35.3% drop over last year. Houses priced between $800,000 to $1M were the only segment to see an appreciation in sales volume.
Only 20 neighbourhoods experienced a growth in sales volume during the first quarter of 2008. Of those 20 neighbourhoods, all but two had an average sale price of under $536,000.
High end neighbourhoods with an average price of over $1M took the top six spots in our list of top performing neighbourhoods this quarter.
Download the complete report for our detailed neighbourhood breakdown including best and worst performing neighbourhoods.
John Pasalis is a sales associate at Prudential Properties Plus in Toronto and a founder of Realosophy. Email John
Share This Article