John Pasalis in Toronto Real Estate News
When I reported last month that real estate prices increased by just $298 in July 2008, I wondered when Toronto would see its first decline in prices. I certainly didn't expect it to come this soon.
The Toronto Real Estate Board announced that the average price for a home in the city of Toronto declined by one percent to $377,990 from $381,681 in August 2007. This is pretty big news because it's the first time in quite a while for Toronto to see a monthly decline in prices.
Average prices for the GTA are still positive showing a 1% increase in August 2008 when compared to the same month last year. Prices in the GTA have declined just once since 1999.
I regularly come across bloggers who argue that prices have been on the decline in Toronto since April 2008. This is absolutely true, but this decline has more to do with the seasonal effects on the real estate market. Prices almost always peak in the spring and drop in the summer.
When we are analyzing changes in average prices we always compare the current month's average to the average for the same month in the previous year in order to eliminate any seasonal effects on the market.
The drop in prices for Toronto in August was limited to the Central and West districts of the city. Below is a list of the MLS districts in Toronto that recorded a decline in prices for August 2008.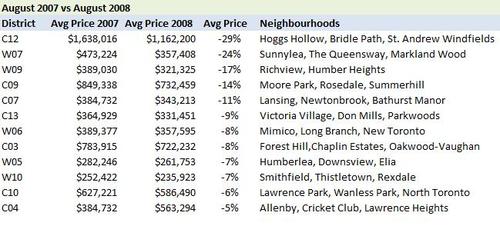 Here's a copy of the Excel file I used with the %changes for all MLS districts.
Download a complete copy of TREB's Market Watch report.
The Toronto Real Estate Board's press release is below:
The Greater Toronto resale housing market closed out the last full month of summer at a steady pace, Toronto Real Estate Board President Maureen O'Neill reported today.
The Greater Toronto Area (GTA) average price increased one per cent, to $364,886 when compared to last August's figure of $361,890. Compared to the $338,192 figure recorded two years ago though, the average GTA has increased eight per cent.
In the City of Toronto the average price declined one per cent to $377,990 from last August's $381,681. Compared to the August 2006 figure of $344,419 however, the average price in the City of Toronto has increased 10 per cent.
In the 905 Region the average price increased two per cent to $356,657 from last August's $348,563. Compared to the August 2006 figure of $334,245 the average price in the 905 Region has increased seven per cent.
"These healthy figures substantiate that when undertaken as a long term investment, buying a home is one of the smartest financial moves you can make," said Ms. O'Neill.
With 6,318 transactions recorded last month, sales in the GTA declined 22 per cent compared to the record August 2007 figure of 8,059. Volumes were off just nine per cent however, from the 6,976 sales recorded in August 2006.
In the City of Toronto, there were 2,437 sales in August, a 25 per cent decline from the 3,243 transactions recorded a year ago.
Compared to the 2,706 sales recorded in August 2006 though, this represents a 10 per cent decline. Sales increased 20 per cent between August 2006 and August 2007.
The 905 Region's 3,881 sales last month were 19 per cent off the August 2007 figure of 4,816 but declined nine per cent from two years ago, when 4,270 sales were recorded.
"Despite August's moderate sales, the 57,364 transactions that have occurred this year are within 14 per cent of the 67,146 figure recorded a year ago," said Ms. O'Neill. "In light of the fact that 2007 was a record year, our current market can certainly be characterized as stable."
There are currently 25,076, properties available for sale in the GTA, which represents a 31 per cent increase from the 19,145 active listings a year ago. Increased choice has resulted in properties remaining on the market for an average of 36 days compared to 33 days a year ago.
Several neighbourhoods throughout the GTA experienced increased sales activity last month compared to August 2007.
In Pickering (E13) transactions rose six per cent based primarily on strong semi-detached home sales.
In Halton Hills (W27) strong attached/row house sales activity lead to a three per cent increase in transactions overall.
Condominium apartment and detached home transactions drove Rosedale (C09) to an 81 per cent increase in overall sales.
Detached home transactions also contributed to an 11 per cent overall increase in sales in Aurora (N06).
John Pasalis is a sales associate at Prudential Properties Plus in Toronto and a founder of Realosophy. Email John
Share This Article