John Pasalis in Toronto Real Estate News
The Canadian Mortgage and Housing Corporation anticipates a more balanced real estate market in Toronto for 2009 with sales expected to drop and prices expected to see modest increases. A couple of the factors driving the slowdown in sales include a decline in employment and wage growth in the year ahead. The inflation rate is also expected to drop to roughly 1.4% next year offering consumers some relief.
The CMHC is forecasting sales in the Greater Toronto Area to decline by roughly 8.5% in 2009 to 75,000. The following chart shows the annual sales volume in the GTA including forecasts for 2008 and 2009.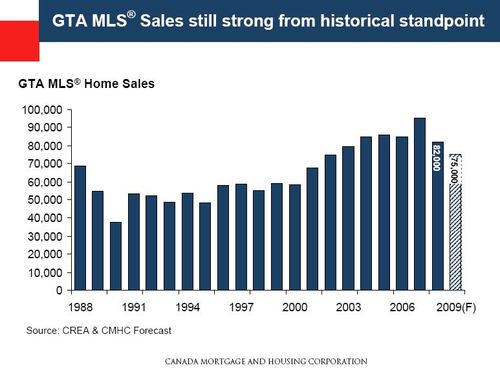 Despite the decline in sales, the CMHC does not anticipate any decline in prices for Toronto in 2009. They are forecasting a modest 1.8% increase in prices next year. The following chart shows the annual percentage change in prices since 1989.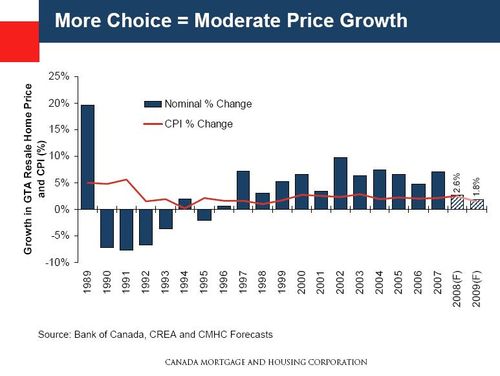 As I've mentioned in previous posts, economic forecasts are as much art as they are science and for that reason we need to take them with a grain of salt. There are a lot of different opinions on the outlook for Canada's real estate market. Merrill Lynch's David Wolf is probably the most pessimistic economist covering Canada's real estate market whereas the CMHC is home to some of the more optimistic economists. I tend to lean towards the economists in the middle who are forecasting moderate price declines for 2009.
John Pasalis is a sales associate at Prudential Properties Plus in Toronto and a founder of Realosophy. Email John
Share This Article