John Pasalis in Toronto Real Estate News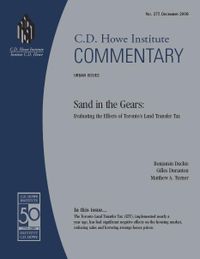 The CD Howe Institute released a report this week titled "Sand in the Gears" that evaluated the effects of the City of Toronto's Land Transfer Tax on Toronto's real estate market. The report concluded that the Land Transfer Tax has had a negative impact on Toronto's real estate market by reducing sales and lowering average prices.
From the report:
Our data show that the LTT caused a 16 percent decline in the number of single-family homes sold after January 2008 and a 1.5 percent reduction in house values. We calculate that in its first year, the LTT will cause a reduction in household mobility – at least 3,500 families in the municipality of Toronto will stay in houses from which they would have otherwise moved – and an average reduction in selling price of about $6,400 per house.

The report compares house sales along Toronto's border with Durham, Peel and York Regions where there is no municipal land transfer tax. Since the authors used data up to August 2008 their analysis was not impacted by the significant declines in the GTA real estate market over the past few months.
The report concludes:
By our estimate, the LTT will cause about 3,500 families per year to stay in houses that are too small, too big, or too far from their places of work or school. Unlike the LTT, an ordinary property tax does not provide a disincentive for moving. This means that a property tax that collected the same amount of revenue as the current LTT would leave Toronto residents better off. While Torontonians would pay the same amount of tax on average, they would do it in houses that suit them better.
John Pasalis is a sales associate at Prudential Properties Plus in Toronto and a founder of Realosophy. Email John
Share This Article