John Pasalis in Toronto Real Estate News
The Greater Toronto area's real estate market experienced a 20% decline in sales in 2008 according to numbers released in the Toronto Real Estate Board's December Market Watch report. There were 74,552 sales in 2008 compared to 93,193 in 2007. Prices in the GTA for 2008 rose by $3,000 to $379,347.
Here's a summary of the 2008 stats for the GTA as a whole along with separate figures for the City of Toronto and the 905 region.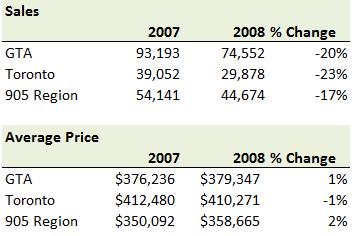 Read TREB's complete Market Watch report here.
Read TREB's press release here.
John Pasalis is a sales associate at Prudential Properties Plus in Toronto and a founder of Realosophy. Email John
Share This Article