John Pasalis in Toronto Real Estate News
A couple of weeks ago I wrote a post about a new Canadian House Price Index launched by National Bank and Teranet. I thought I would expand on that post by taking a closer look at the House Price Index for each of the six Canadian cities they track. I was specifically interested in seeing how Toronto house prices have performed relative to the other Canadian cities.
The following chart shows the House Price Index from January 2005 to October 2008.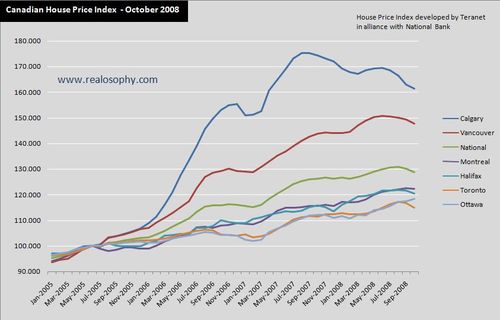 Calgary clearly outpaced the other Canadian cities with an 82% increase in house values in less than three years. Calgary was followed by Vancouver with a 61% increase. From there the appreciation in house values drops significantly to between 25%-30% for Halifax and Montreal followed by a 22% increase for Toronto and Ottawa.
It's interesting to see that despite what seemed like an overheated real estate market in Toronto over the past few years, a period when multiple offers became the norm, Toronto real estate prices significantly underperformed the rest of the country. Fortunately it's Toronto's modest performance over the past three years that makes a real estate collapse less likely.
The old saying the higher they rise the harder they fall still holds true and is one of the key reasons why economists expect west coast cities like Calgary and Vancouver to see the biggest decline in house values over the next couple of years.
John Pasalis is a sales associate at Prudential Properties Plus in Toronto and a founder of Realosophy. Email John
Share This Article