John Pasalis in Toronto Real Estate News
The Toronto Real Estate Board reported 3,433 condominium rentals in the Greater Toronto Area from September to December 2008, a 30% increase over the 2,635 transactions reported during the same months in 2007.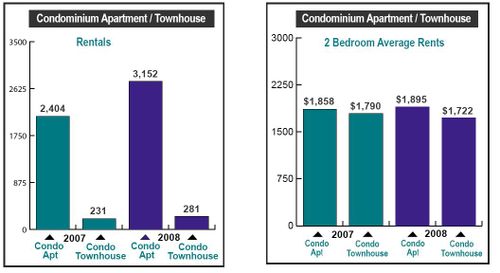 This increase in rentals had a lot to do with the decline in real estate sales during the same period. Real estate sales fell by roughly 30% from September to December 2008 over the previous year, with much of the decline being attributed to a drop in consumer confidence due to current economic conditions. A high number of people who were in the market for a new residence in the fall decided not to buy at that time. Some of those potential purchasers are still sitting on the sidelines while others decided to rent.
We often see this inverse relationship between rentals and sales when the real estate market shifts from a seller's market to a buyer's market and vice versa. All other factors remaining equal, as real estate sales decline we expect to see a corresponding increase in rental activity. As vacancy rates drop and rentals become harder to find and more expensive we eventually see the market shift again and more people start buying houses which causes rental activity to decline.
This increase in rental activity is not limited to condominiums. A recent CMHC report showed vacancy rates drop 38% from 3.2% in October 2007 to just 2% in October 2008.
This increase in rental activity is further evidence that Toronto is in a Buyer's Market.
The demand for rentals is great news for Toronto's condo market. Most of the uncertainty surrounding the short term outlook for Toronto's condo market has to do with the roughly 147 condos currently under construction and the unknown percentage that were purchased by investors versus future home owners. The theory is that if the percentage owned by investors is high we might see some downward pressure on the condo market should these investors decide to sell in large numbers once their condos are registered.
A strong rental market offers some support to the condo market. Should investors find it difficult to get the price they expected for their condos they can take advantage of this strong rental market instead.
Download the complete report here.
John Pasalis is a sales associate at Prudential Properties Plus in Toronto and a founder of Realosophy. Email John
Share This Article