John Pasalis in Toronto Real Estate News
Canadian house prices in December 2008 were down just .6% from a year earlier, according to the Teranet-National Bank House Price Index. Half the cities in the index showed a decline in prices over the previous year while the other half showed an increase in prices. Vancouver (-1.5%), Toronto (-.7%) and Calgary (-7.6%) all showed a decline in house values. Prices were up in Montreal (5.4%), Halifax (4.6%) and Ottawa (4.2%).
The following chart shows the House Price Index for the six cities tracked along with the national composite since January 2005.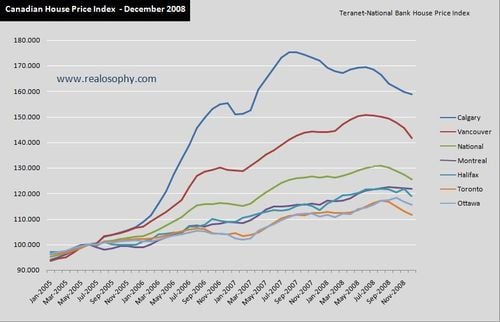 Even though prices were up in December for three of the cities tracked, prices are below their record highs for each of the six cities. The following chart shows the % decline in December 2008 from each city's index high.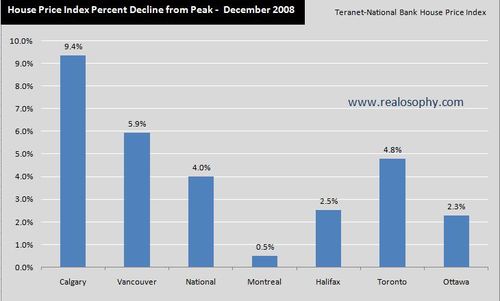 This final chart shows the year over year % change for each of the cities.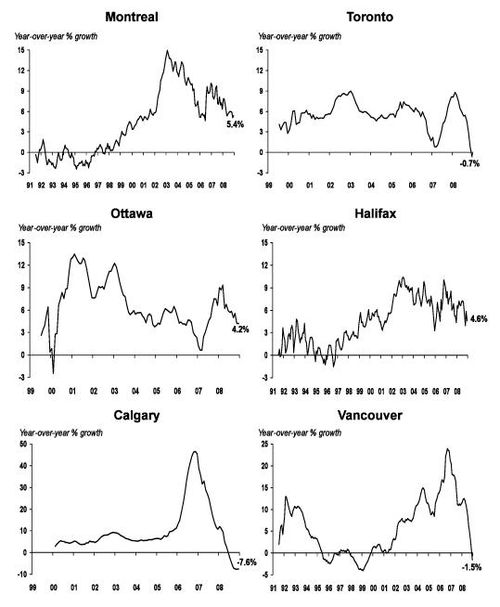 John Pasalis is a sales associate at Prudential Properties Plus in Toronto and a founder of Realosophy. Email John
Share This Article