John Pasalis in Toronto Real Estate News
The Toronto Real Estate Board released their March sales statistics yesterday and they appear to be encouraged by the fact that sales are down by just 7% from March 2008, "representing the smallest year-over-year decline in the last five months". While there was some good news in TREB's March Market Watch report, it had little to do with the 7% decline in sales over last year.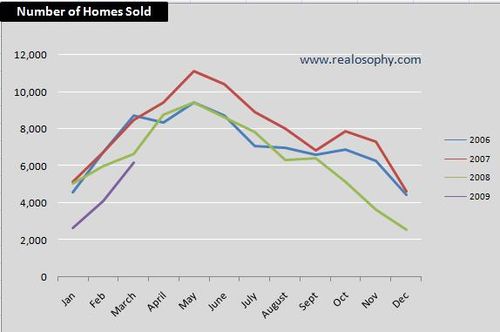 As I mentioned in previous posts, real estate sales in March 2008 were down over 22% when compared to sales in March 2007 and 2006 - see above chart. The underperforming March 2008 sales numbers are making our sales figures for March 2009 look better than they really are. When we compare March 2009 to March 2007 or 20006 sales are actually down by over 27%. But this doesn't mean that Toronto's real estate market is on shaky ground.
While total house sales is an important measure to track, it's only one half of the equation. It's just as important to understand how changes in the supply of houses is impacting the market. The following chart shows the number of new listings for each month.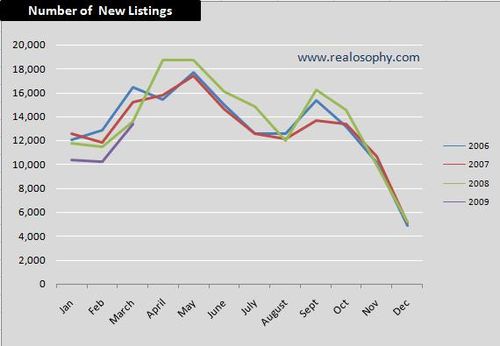 We can see from the chart that fewer home owners are putting their houses for sale in 2009. During the first quarter of 2009 we had roughly 10% fewer new listings than in the first quarter of 2008 and roughly 20% fewer new listings than in the first quarters of 2007 and 2006. This drop in the supply of homes is bringing more balance between the supply and demand for homes in Toronto's real estate market.
Toronto's sales-to-inventory ratio gives us some insight into how much demand there is in the market relative to the supply of homes. Even though the demand for homes in Toronto may be down when compared to previous years, the decline in the supply of homes coming on the market has moved us back to a more balanced real estate market.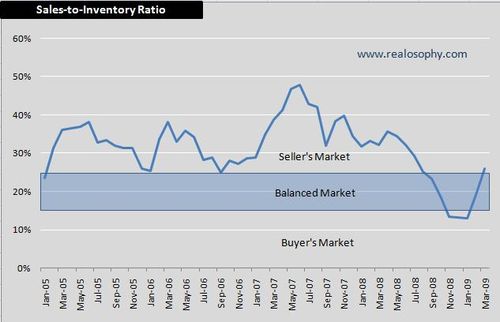 In an upcoming post I'll discuss the sales-to-inventory ratio in more detail with specific emphasis on the impact it has on prices. I'll also see what lessons we can learn from looking at sales-to-inventory figures from Toronto's real estate crash in the early 1990's.
Read TREB's March press release here.
Download TREB's March Market Watch report.
John Pasalis is the Broker of Record of Realosophy Realty Inc in Toronto. Email John
Share This Article