John Pasalis in Toronto Real Estate News
Toronto real estate prices increased by 9.4% in just four months according to the Teranet National Bank House Price Index.
The House Prince Index does not use average price to measure changes in house values. It uses something called the repeat sales methodology to calculate changes in house values. This approach requires a property to have been sold at least twice in order for it to be used in their calculations. They take the current sale price of a particular house and compare it to the previous sale price to measure the increase or decrease in value over that period. This approach offers a more realistic look into changes in real estate values. You can read more about the index here.
Here is the most recent House Price Index chart for Toronto.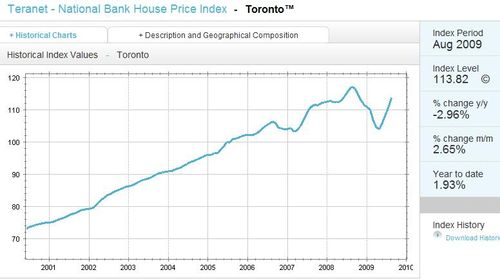 Toronto's House Price Index reached a low of 104 in April 2009 but increased to 114 in August, an increase of 9.4% in just four months. Over the past decade it has taken an average of 2-3 years for Toronto home prices to increase by 9%. If prices continue at this rate for the next eight months we'll see a 28% increase in house values in just one year.
Readers of this blog may recall that in early July I wrote a post titled Alarming Imbalance in Toronto's Real Estate Market. While some in the real estate industry accused me of being unnecessarily alarmist, the fact is that the imbalance I wrote about four months ago is what's driving the rapid price appreciation we are seeing today.
There are a lot of houses selling well above their market value but there are still some houses selling for reasonable prices. What I'm finding is that in any given week 5-10 houses will come on the market in a particular neighbourhood and all will hold back offers until the following week. When offer day comes, all the buyers end up competing for the same 2-3 houses which drives up prices. These houses are usually in slightly better condition and very well staged.
I remember showing two similar houses on the exact same street a few weeks ago. Both houses were accepting offers on the same day. One house sold for $150K above the list price because 10 buyers were competing for it, the other house only had one offer and sold for $30K under list.
If you're a buyer looking in this market, here are a couple of tips for you.
Look for value. Stainless steel appliances and granite countertops are not that expensive. Avoid paying a premium for a well staged house. Seek out the houses that don't have that immediate wow factor. You'll save money because you won't end up competing against 10 other buyers to win it. You can use some of the money you saved to make the house your own.
Understand what the house is actually worth. In a multiple offer situation many agents will tell you what you need to offer to win the house but they may not tell you what the house is actually worth. This is important because as a buyer you need to know how much of a premium you're paying to win a particular house. Furthermore, you need to know the home's value to assess the risk of waiving your condition on financing. You can read more about this in an earlier blog post titled Competing in a Multiple Offer in Toronto's Real Estate Market.
The Toronto Real Estate Board will be releasing their October sales statistics this week. Stay tuned!
Related Posts
Alarming Imbalance in Toronto's Real Estate Market
Competing in a Multiple Offer in Toronto's Real Estate Market
John Pasalis is the Broker owner of Realosophy Realty Inc in Toronto. Realosophy Realty focuses on researching Toronto neighbourhoods to help their clients make smarter real estate decisions.
Share This Article