John Pasalis in Toronto Real Estate News
A quick summary of the Toronto Real Estate Board's sales figures for October.
The two most commonly reported figures, sales growth and price appreciation are very misleading this month.
Home sales increased by 64% to 8,476 last month. The percentage increase is skewed by the fact that sales in October 2008 were low due to the crisis in financial markets. But it's worth noting that 8,476 sales is still the best October on record.
The average price for a home is up 20% to $423,559. This number is also skewed by the poor sales figures last year and by the significant increase in the number of higher priced homes that sold last month.
The important take away from today's figures is that the imbalance between supply and demand, measured by the sales-to-inventory ratio actually widened this month.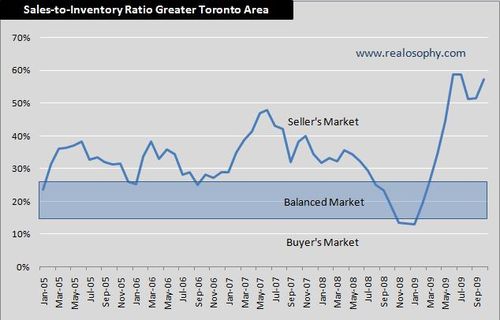 We saw a slight improvement in August and September but the market moved further into seller's market territory in October.
John Pasalis is the Broker owner of Realosophy Realty Inc in Toronto. Realosophy Realty focuses on researching Toronto neighbourhoods to help their clients make smarter real estate decisions.
Share This Article