John Pasalis in Toronto Real Estate News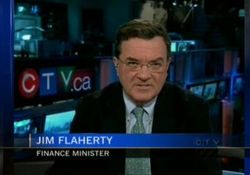 CTV News reports that finance minister Jim Flaherty is considering raising the minimum down payment required for a mortgage in Canada and possibly reducing the maximum amortization period allowed in an effort to cool down Canada's hot real estate market.
Flaherty warns "If we see further evidence that there is excessive demand in the housing market or that there's an indication that people are taking on obligations that they will not be able to handle in the future when interest rates rise, then we will take some action,"
"The likely action we will take is to increase the size of the down payment from 5 per cent to a higher number, reduce the amortization -- bring it down from 35 years to something less," he said.
Low interest rates have been one of the key drivers behind the quick turnaround in Canada's real estate market. The federal government is looking for ways to cool the demand in the real estate market without raising interest rates. Increasing interest rates would have a negative effect on the other sectors of Canada's recovering economy.
John Pasalis is the Broker owner of Realosophy Realty Inc in Toronto. Realosophy Realty focuses on researching Toronto neighbourhoods to help their clients make smarter real estate decisions.
Share This Article