John Pasalis in Toronto Real Estate News
From the Toronto Real Estate Board:
Greater Toronto REALTORS reported 3,079 existing home transactions in the first two weeks of December compared to 1,487 in 2008. The strong growth represents both increased home ownership demand and the fact that we are comparing the recovery phase of the sales cycle this December with the contraction phase experienced last winter.
Year-to-date sales, at 84,888, were up 16 per cent compared to the same period last year and have moved in line with the healthy levels experienced in the 2004 through 2006 period.
"We experienced a very strong and broad based recovery in the second half of 2009," said Toronto Real Estate Board President Tom Lebour. "The rebound in the housing sector speaks to the confidence that ouseholds have in overall economic recovery."
The average resale home price during the first two weeks of December rose 17 per cent to $423,103. The year-to-date average was $395,411, up four per cent compared to the same period in 2008.
"The double-digit price growth we have experienced since September will continue through the first quarter of 2010. Average price growth will move to a sustainable pace in the spring as listings increase," according to Jason Mercer, TREB's Senior Manager of Market Analysis.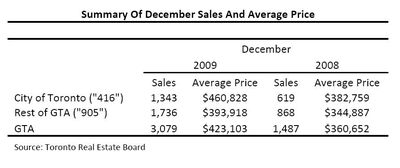 John Pasalis is the Broker owner of Realosophy Realty Inc in Toronto. Realosophy Realty focuses on researching Toronto neighbourhoods to help their clients make smarter real estate decisions.
Share This Article