John Pasalis in Toronto Real Estate News
Toronto and Vancouver have Canada's hottest real estate market according to the Teranet-National Bank House Price figures released this week.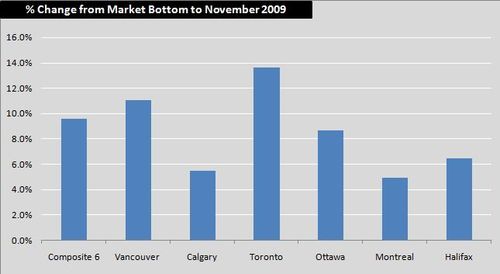 Looking at the appreciation in the Index from each city's market bottom in 2009, Toronto is leading the way with a 13.6% increase in house values. Vancouver prices increased 11% followed by Ottawa at 8.7%. Toronto's market bottomed in April 2009 versus June 2009 for Vancouver. This two month head start pushed Toronto's appreciation ahead of Vancouver's for November 2009, but prices in Vancouver are appreciating at a faster rate than Toronto.

Vancouver and Calgary are the only two cities where house values are still below their 2008 highs.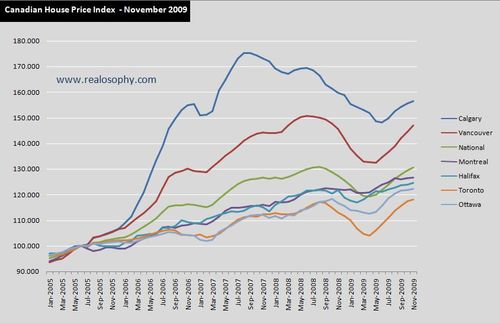 The 13.6% appreciation we are seeing in Toronto house prices is noteworthy because it happened over a seven month period. If we compare this appreciation to to the apreciation we've seen in recent years, from January 2005 (the starting point in the above chart) it took Toronto over 2 ½ years to realize an appreciation in house values in the 14% range.
John Pasalis is the Broker owner of Realosophy Realty Inc in Toronto. Realosophy Realty focuses on researching Toronto neighbourhoods to help their clients make smarter real estate decisions.
Share This Article