John Pasalis in Toronto Real Estate News
The average price for a Toronto home increased by 4% in 2009 to $395,460, the 13th straight year house values have increased in Toronto.
Browse year over year comparison charts on our new Toronto Real Estate Statistics page.
The following chart shows the average price for a home from 1975-2009.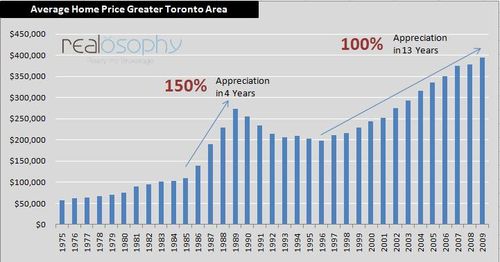 Note the difference in appreciation between the late 1980s to the appreciation we've seen over the past thirteen years. In the late 1980s house prices increased 150% in just 4 years compared to a 100% increase from 1996 to 2009.
The number of house sales for 2009 increased by 11% over the previous year to 87,308. The following chart shows the average house price and total annual sales on the same chart.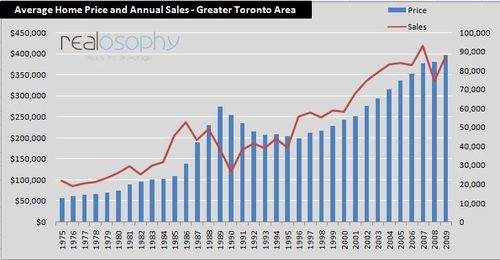 "Market conditions became very tight in the latter half of 2009. Sales climbed strongly relative to the number of homes listed for sale, resulting in robust price growth that more than offset average price declines in the winter," said Jason Mercer, TREB's Senior Manager of Market Analysis. "A greater supply of listings in 2010 will see home prices grow at a sustainable pace."

Download the Toronto Real Estate Board's Market Watch Report for December 2009 here.
John Pasalis is the Broker owner of Realosophy Realty Inc in Toronto. Realosophy Realty focuses on researching Toronto neighbourhoods to help their clients make smarter real estate decisions.
Share This Article