John Pasalis in Toronto Real Estate News
It seems as though any time house prices are on the rise in Toronto, regardless of how modest the increase might be, Torontonians are worried that a real estate crash is just around the corner. But for the first time in nearly twenty years, concerns of a real estate bubble are somewhat justified.
According to the Teranet National Bank House Price Index, Toronto home prices have appreciated by 15% from the market bottom in April 2009 to December 2009. Toronto hasn't seen this kind of rapid price appreciation since the real estate bubble in the late 1980's.
There is also a significant imbalance between the supply and demand for houses in Toronto which is resulting in a high percentage of multiple offers for houses which in turn is driving up prices.
But when it comes to deciding whether or not Toronto is experiencing a real estate bubble is the formula really as simple as:

Are there any circumstances where a rapid appreciation in house values does not mean we are in a bubble? Can a rapid appreciation in prices ever be explained or is it always irrational speculation?
If we look at the House Price Index for Toronto we'll find that house prices peaked in August 2008 at 117.29 and fell to 104.01 in April 2009. Since April Toronto's house price index has risen to 119.65 in December 2009, a 15% increase.
Is the 15% appreciation in house prices driven by irrational exuberance or are prices quickly making up the ground they lost during financial crisis last year? House prices in December 2009 are up just 2% over the previous high in August 2008.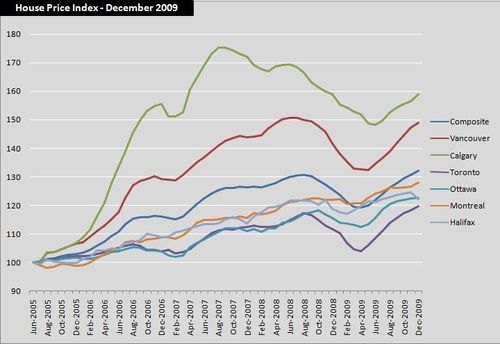 If we compare Toronto house values to the other five cities tracked by the house price index (see chart) we'll see that even with Toronto's rapid recovery in 2009, Toronto home prices have appreciated the least over the past four years.
While I don't think Toronto house prices are in bubble territory right now, we will need to keep an eye on the supply of homes coming on the market and the appreciation in prices in the coming months.
One of the factors behind the low supply of homes in 2009 had to do with lower prices. Because prices had not fully recovered home owners were reluctant to sell their homes below the theoretical high they would have received had they sold in the summer of 2008. Now that Toronto house prices have fully recovered I believe we'll see an increase in the number of houses coming on the market which will slow down the rate of price appreciation.
John Pasalis is the Broker owner of Realosophy Realty Inc in Toronto. Realosophy Realty focuses on researching Toronto neighbourhoods to help their clients make smarter real estate decisions.
Share This Article