John Pasalis in Toronto Real Estate News
The Toronto Real Estate Board reported 4,986 transactions through the Multiple Listing Service (MLS) in January 2010. This result represented a large increase over the 2,670 sales in January 2009 when the home sales were in a recessionary trough. Last month's sales were slightly higher than the January average in the five years preceding 2009.
The average price for a Toronto home climbed by 19% over last year to $409,058.
"Expect strong annual growth rates for existing home sales and average price through the first quarter as we continue to make comparisons to the weak market conditions at the beginning of 2009," said Jason Mercer, TREB's Senior Manager of Market Analysis. "The rate of sales and price growth will be lower in the second half of 2010."
We did see more balance between supply and demand in January as measured by the sales-to-inventory ratio. 41% of homes available for sale actually sold in January compared to 54% in December.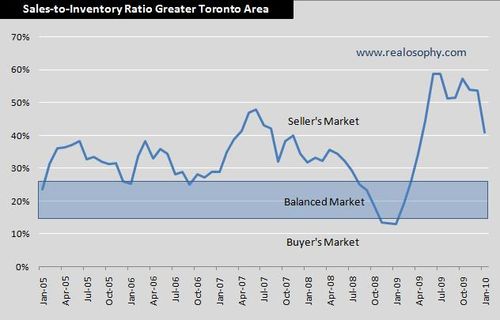 John Pasalis is the Broker owner of Realosophy Realty Inc in Toronto. Realosophy Realty focuses on researching Toronto neighbourhoods to help their clients make smarter real estate decisions.
Share This Article