John in Toronto Real Estate News
From the Teranet National Bank House Price Index:
Canadian home prices in February were up 9.9% from a year earlier, according to the Teranet-National Bank National Composite House Price Index. This acceleration from 12-month rises of 7.5% in January and 5.2% in December is attributable to the deflation that was in progress 12 months earlier. This base effect will continue through the results for April, the anniversary of the index bottom. The composite index has been on the rise since then and is now up 11.7% from the bottom. However, this gain is strongly influenced by Toronto, up 16.2% from April 2009, and Vancouver, up 14.1% from May 2009. In the four other markets surveyed, the rise from the respective troughs is less than 9%.
Month-over-month gains have recently decelerated considerably. The 0.2% February rise in the composite index was the smallest in the 10 months since it began climbing. In two of the six markets surveyed, prices were down from the month before.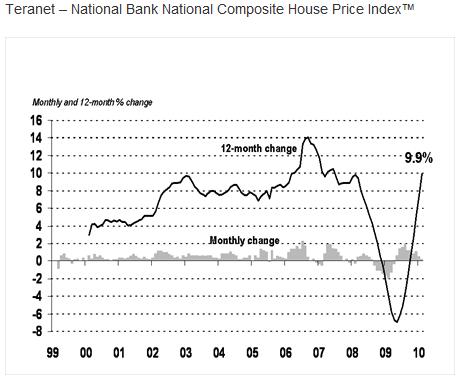 The declines were in Ottawa, 1%, and Calgary, 0.4%. For the latter it was a second consecutive month of retreat. Montreal prices were flat in February. Prices were up 0.2% in Halifax, 0.4% in Toronto and 0.6% in Vancouver. The latter two rises were the smallest in those markets since they began reflating. This development is consistent with a general loosening of market conditions across the country. For some months now, homes have been coming on the market faster than they have been selling.

Vancouver prices passed their pre-recession peak in February. The only market yet to top its previous high is Calgary, down 10% from its August 2007 peak.
John Pasalis is the Broker owner of Realosophy Realty Inc in Toronto. Realosophy focuses on researching Toronto neighbourhoods to help their clients make smarter real estate decisions. Email John
Share This Article