John in Toronto Real Estate News
For the first time since 2008 the growth in new listings coming on the market in April exceeded the growth in sales. A significant turning point for Toronto's real estate market.
Since the housing market rebounded in early 2009 Toronto has seen a significant shortage of listings and strong demand from buyers. This imbalance between supply and demand has been driving up prices over the past year and is the key factor behind the multiple offers we are seeing on most houses.
Last month there were 20,683 new properties listed for sale, a 59% increase over the same month last year. The blue line in the chart below shows the monthly volume of new listings for 2010.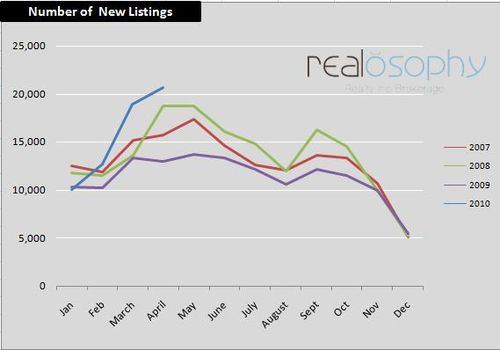 There were 10,898 sales in the Greater Toronto area in April, a 34% increase over last year.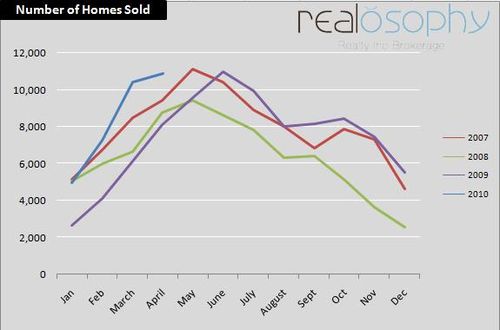 We are also saw a decline in the sales-to-inventory ratio for the Toronto area moving us a little bit closer to a more balanced market.
Expect to see new listings continue to outpace sales over the next few months moving us closer to a balanced market.
John Pasalis is the Broker owner of Realosophy Realty Inc in Toronto. Realosophy focuses on researching Toronto neighbourhoods to help their clients make smarter real estate decisions. Email John
Share This Article