John in Toronto Real Estate News
From the Toronto Real Estate Board:
The Toronto Real Estate Board report reported 4,139 sales through the Multiple Listing Service® (MLS®) during the first two weeks of June 2010.
This represented a 20 per cent decrease compared to the 5,185 sales recorded during the same period in 2009. New listings increased by 21 per cent annually to 7,985.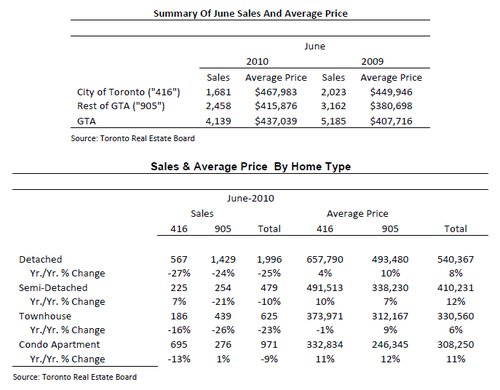 "The pace of existing home sales in the GTA has slowed to more normal levels following a record-setting start to 2010," said Toronto Real Estate Board President Tom Lebour.
"Due to higher mortgage carrying costs, sales in the second half of 2010 will not be as high as what was experienced during the last six months of 2009."
The average price for June mid-month transactions was $437,039 – up seven per cent compared to the average of $407,716 recorded during the first 14 days of June 2009.
"The seller's market conditions experienced during the first few months of the year have given way to more balanced conditions. Home buyers are experiencing more choice," said Jason Mercer, TREB's Senior Manager of Market Analysis. "With more choice in the market place, price growth is starting to slow."
John Pasalis is the Broker owner of Realosophy Realty Inc in Toronto. Realosophy focuses on researching Toronto neighbourhoods to help their clients make smarter real estate decisions. Email John
Share This Article