John in Toronto Real Estate News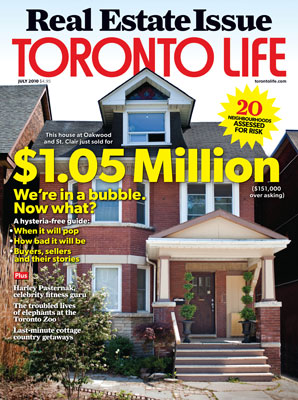 In case you haven't heard, we're in a real estate bubble! Well, at least according to Toronto Life.
In their current Real Estate Issue, Toronto Life not only announces that the city is in the midst of a real estate bubble, they promise to have some insight into when it will pop and how bad it will be (you can find the article here). As readers of this blog know, this is difficult for any expert to do, so the editors of the magazine succeeded at capturing my interest.
The leader to the main article draws parallels between our current market and the real estate crash Toronto experienced in 1989 (see my earlier, opposite opinion). But after reading the article, I felt a little like a prize fighter whose opponent has suddenly withdrawn – all juiced up with nowhere to go. The article does not lay out any new evidence indicating a real estate bubble, which I had been looking forward to examining, but tepidly features a few "yes, bubble" and "no, bubble" views from various experts. (Just to be clear, I was not excited by the prospect of a bubble, just the prospect of reading a thought provoking, original article on the real estate market.)
While the article doesn't say much we haven't already heard, I'll highlight some of the key arguments made in support of the bubble theory:
From financial writer Garth Turner: "For starters, there's the uncertainty of the economy and the possibility that we're in a jobless recovery. Then factor in the HST for new buildings, which [Garth] Turner predicts will be the first in multi-year tax increases."
From financial analyst Danielle Park: "Behind the boomers there's no big bulk of the population that will be able to scoop up million dollar homes, especially as rates rise."
From Toronto Life: "When rates go up – and they will, it's only a question of how fast – monthly mortgage payments will nearly double."
Jobs recovery, population/market trends and interest rates are good indicators for us to keep an eye on when tracking the health of Toronto's real estate market. But I think Torontonians tend to be well-educated and thus expect a bit more than vague "keep an eye on it" sentiments from experts – for starters, a few facts and figures which actually assess the state of these indicators. And it would also be good to understand which of these indicators have stronger relationships to bubbles – and whether they contribute to bubble creation, growth or collapses.
Professor James McKellar from York University's Schulich School of Business, also quoted in the article, at least begins with a definition of what makes for a bubble and then shares what he looks for when trying to assess one:
"A bubble is characterized by speculative behavior, and that behavior is not exhibited in this market. People are not primarily buying and selling houses to make money."
The final argument in favour of a real estate bubble in the article comes from investment firm Guskin Sheff's Chief Economist, David Rosenberg. Rosenberg doesn't appear to have been interviewed for the article, but Toronto Life provides his previous quote:
"Home ownership rates, mortgage debt ratios and many home price valuation metrics in Canada have reached the same stretched levels the U.S. did back in 2005 and 2006."
Important indicators that could signal trouble (though in the U.S. case, the highly speculative behaviour that was spurred on by the securitization of mortgages is another indicator worth considering). Taking Rosenberg's comments at face value, it would be great to see a city by city breakdown for these indicators. If there is a significant Canada downturn, it would be important to assess where Toronto sits going in – and assessment of our particular weak spots would provide some helpful indication of where we may sit coming out. Even in the U.S., New York and Boston aren't Detroit, Phoenix and Las Vegas. (In concluding, Toronto Life does concede that Toronto isn't Phoenix.)
In addition to city analysis, neighbourhood analysis that actually relates back to some of the expert advice would have been good. Very confusingly, considering that many experts are specifically concerned about expensive $1 million dollar plus homes, Toronto Life rates Rosedale, Forrest Hill and Riverdale to be the safest neighbourhoods, followed by other high end bets The Annex and Yorkville. (Most of the write-ups actually seem to contradict the accompanying ratings, but that's too many beefs for one blog post!)
Overall, I would expect a better effort from Toronto Life on an issue that's top of mind for most Torontonians. But it seems like the aim here was to provide 5-min. breakfast entertainment than actual education. An interesting approach given the fear that big media has expressed when it comes to competing with bloggers who tend to focus on explaining rather than titillating.
John Pasalis is the Broker owner of Realosophy Realty Inc in Toronto. Realosophy focuses on researching Toronto neighbourhoods to help their clients make smarter real estate decisions. Email John
Share This Article