What a great time we had at Realosophy's Thank You party @ Leslieville Wanderlust last week. Thank you to our clients, neighbours, friends and gnome-hunters who visited us throughout the night.
It didn't take too many glasses of wine for our guests to grab a marker and take up our idea wall challenge: What is your wish for Toronto in 2011?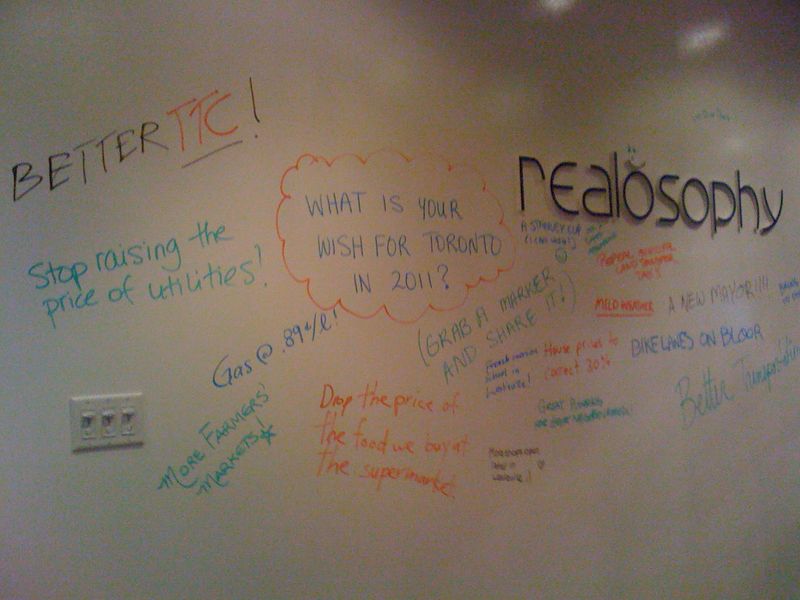 Better transit was the most desperate fervent wish for the city. There were (contradictory) calls for more bike lanes, more farmer's markets, cheaper food, gas and utilities and less dive bars. And it didn't take long for someone to want to undo the results of the recent mayoral race. A lone home buyer hoped for the housing market to correct by 30%, a sentiment greeted with disdain by everyone else. No schadenfreude here.
A couple of things struck me about the interesting and diverse crowd. One is that we are conscious. Granted it was only 6pm, but when it came to buying things, eating things and doing things, most of us were asking ourselves - why? Or at the very least, should I? Or even, do I have to? We've rejected a lot of prefab conclusions - church, state, economic truisms. In an update to what you may or may not do on a Sunday, we define ourselves largely by what we do or do not buy. It sets up a strange paradox, one that is evident in real estate and many other industries - we are more susceptible to marketing, but more discerning too.
And we are blurry again. When you scoot in and out of boxes, picking up what you like, you end up moving around, crossing sectors, changing lifestyles. I say again, as in back to the future, because historical figures have always struck me as unfocussed dilettantes gifted polymaths. Take Seneca - playwright, stock broker, civil servant, philosopher for the ages. Or Thomas Jefferson. Or Will Smith.
I left the public sector to pursue a full-time entrepreneurial vision (Realosophy!) this year and I've learned first-hand how challenging moving boxes can be. But not for the reason many assume: Aren't you going to hate focusing on making money instead of working for the greater good?

Throughout the night, I was struck by how many entrepreneurs drive the kind of change that only shows up in the voting booth years later. Talking to Chris, a key member of the Sweet Pete's Bike Shop team, which is expanding to a new location in the Annex in 2011, reminded me of how independent bike shops operating throughout the city for the last 10 to 15 years have helped to nurture and grow the number of voters who vote for bike lanes - creating the demand that politicians react to.
I also admired the leadership behind the Leslieville Wanderlust event. Leslieville doesn't have a Business Improvement Area (BIA), it has one better - a savvy, motivated group of independent business owners that are familiar and come together on a need basis. By foregoing more formal apparatus, the focus stays on pulling off the best event/campaign/protest rather the busy work and meetings that come of trying to justify annual dues and representation. And the long-term strategy document vision for the neighbourhood? It gets hashed out in coffee shop conversations, doorstep greetings, chats at the register, part of the normal business of living.
Some of our party guests, among them an economics professor at York and Humber College and a keen observer of the real estate industry, were very interested about the recent MLS changes and wanted to know if Realosophy's value-added services were a direct response to competitive pressure on the industry. Yes, but more anticipation than a response. We launched realosophy.com a few years ago because we saw plenty of opportunity in an industry where both consumer and agent pain was too high. 2011 will be a bellweather year for the residential real estate industry. There's a lot of anxiety and fear of the unknown, but it's also a very, very exciting time to be in our industry. I guess it's the difference between being a case study and analyzing one.
Team Realosophy thanks you for your ideas, feedback and support in 2010. We look forward to bringing you more in the New Year!
Urmi Desai is editor of the Move Smartly blog and is responsible for Realosophy's business development and marketing. Realosophy Realty Inc. Brokerage focuses on researching Toronto neighbourhoods to help their clients make smarter real estate decisions. Email Urmi
Subscribe to the Move Smartly blog by email

Share This Article