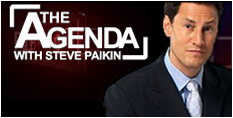 Last week the Canadian Real Estate Association and the Competition Bureau reached a settlement to open up CREA's Multiple Listing Service to For Sale By Owner listings. Sellers can now pay a real estate brokerage a flat fee to merely post a property to the MLS without providing any other services to the seller.
Realosophy President and Broker John Pasalis will be on The Agenda with Steve Paikin this evening at 8pm to discuss what these changes mean to the way consumers buy and sell real estate in Canada.
Tonight's episode will also include a debate on the case against home ownership with a great panel (accurate at time of writing) including:
Robert Shiller, the Yale economist who developed the Case-Shiller House Price Index
Richard Florida, professor and head of the Martin Prosperity Institute at Rotman School of Management, The University of Toronto
Jane Saber, Assistant Professor at Ted Rogers School of Management, Ryerson University
Phil Soper, President and CEO of Royal Lepage
For more on the recent settlement between CREA and the Competition Bureau, read John's recent blog post, Making Sense of Canada's New MLS Rules.
Urmi Desai is editor of the Move Smartly blog and is responsible for Realosophy's business development and marketing. Realosophy Realty Inc. Brokerage focuses on researching Toronto neighbourhoods to help their clients make smarter real estate decisions. Email Urmi
Share This Article