Realosophy Team in Realosophy News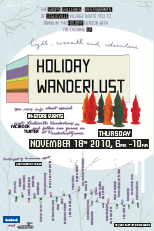 You're invited to Realosophy's thank you party @ Leslieville's Wanderlust holiday festival!
We've had a wonderful first 6 months on Queen East and we'd like to thank our clients, friends, family and neighbours.
Please join us this Thursday November 18th from 6pm to 10pm and enjoy festive drinks, food and good cheer as you explore our unique office space (and share your New Year hopes for Toronto on our idea wall). Our office is located at 1152 Queen Street East, just west of Jones.
And remember, it's a neighbourhood-wide evening of fun. Our friends at Parts Gallery next door will be featuring a new artist exhibition and there are plenty of exciting eats and treats throughout Leslieville's Wanderlust festival (click here for all Wanderlust info).
Come and see why Leslieville is the Toronto neighbourhood everyone is talking about!
Realosophy Realty Inc. Brokerage focuses on researching Toronto neighbourhoods to help their clients make smarter real estate decisions. Email Realosophy
Share This Article