John Pasalis in Toronto Real Estate News
In last month's market update I looked at whether Toronto real estate prices were heading up or down by comparing conflicting figures published by the Toronto Real Estate Board (TREB) and the Teranet National House Price Index. This month all signs are pointing to a rise in Toronto real estate prices.
Looking at TREB's monthly sales statistics, the number of new listings coming on the market in February 2011 declined by 9% over the same month in the previous year.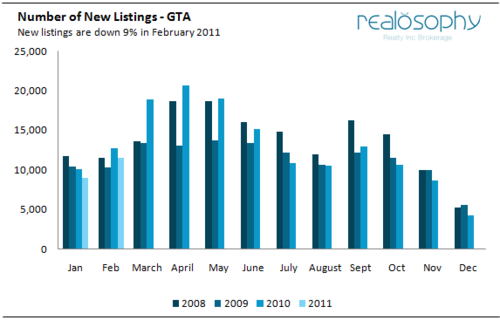 The number of home sales last month declined by 14%.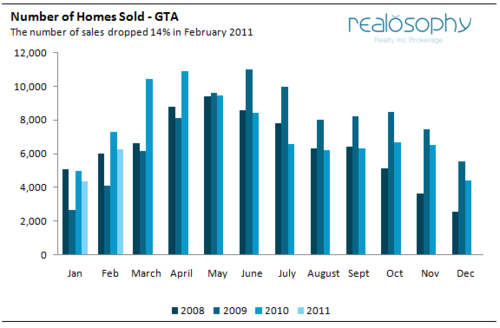 On the surface, a 14% decline in sales suggests that demand is softening and the market is cooling down. But to get a real sense for the balance between supply and demand we'll look at the sales-to-inventory ratio.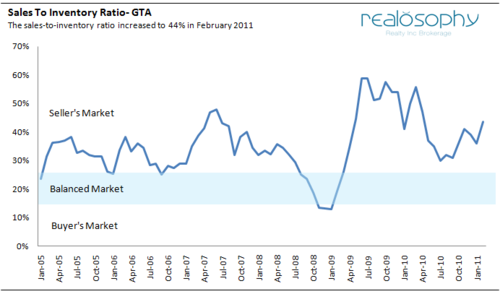 The sales-to-inventory ratio, largely driven by tighter supply, jumped from 36% to 44% last month, moving us further into seller's market territory. Multiple offers continue to be the norm in Toronto's most desirable neighbourhoods.
The average price for a Toronto home climbed to $454,423, up 5% over the same month last year.
In last month's report we noted that house values as reported by the Teranet National Bank House Price Index had declined for three straight months. In the latest House Price Index report we see this downward trend in house values come to an end with all but one of the Canadian cities tracked by the Index showing a gain in December.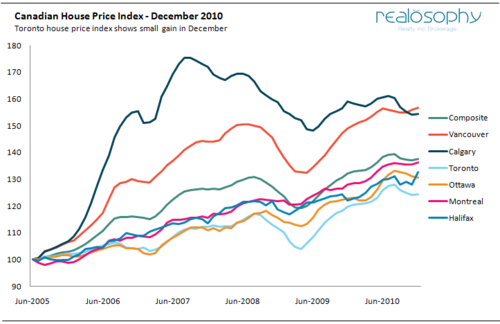 On March 18th Canada's new mortgage rules will come into effect which will reduce the maximum allowable amortization for a mortgage from 35 to 30 years. I predicted in a previous post that this may drive a mini boom in the market as many buyers rush to buy ahead of the March 18th deadline.
After March 18th, I suspect that we'll see a softening in demand as many buyers who were looking for homes based on a pre-approval with a 35 year mortgage will be forced to slash their home buying budgets by as much as 10%.
But I don't think the sales-to-inventory ratio will shift much. There's a good chance that the supply of homes coming onto the market will also decline as upsizers forgo a move due to mortgage changes, offsetting any softening in demand.
When the federal government increased amortization limits from 25 to 40 years a few years ago, the biggest increase in demand came from upsizers. The change in the amortization limit meant that homeowners were able to trade in their small starter homes for a larger and more expensive home they previously couldn't afford. Reducing the amortization limit can have the opposite effect on homeowners. It forces homeowners to move only when they've saved enough money or are making more money to afford a bigger home (not a bad thing for all home owners who want to ensure their housing assets remain stable).
In the immediate term, sellers may wish to take advantage of current market conditions.
John Pasalis is the Broker Owner of Realosophy Realty Inc in Toronto. Realosophy focuses on researching Toronto neighbourhoods to help their clients make smarter real estate decisions. Email John
Share This Article