John Pasalis in Toronto Real Estate News
The Toronto Real Estate Board just published their monthly sales figures for February. As usual, I'll take a closer look at the numbers in my monthly report next week but for now I've included a copy TREB's press release below.
The charts on our Real Estate Statistics page have also been updated.
Greater Toronto REALTORS® reported 6,266 transactions through the TorontoMLS® system in February 2011. This result was 14 per cent lower than the record sales reported in February 2010.
While not representing a record, February 2011 sales were 50 per cent higher than the number reported in February 2009 during the recession and slightly higher than the average February sales over the previous ten years.
"Continued improvement in the GTA economy, including growth in jobs and incomes and a declining unemployment rate, has kept the demand for ownership housing strong," said Toronto Real Estate Board (TREB) President Bill Johnston.
The average selling price for February 2011 transactions was $454,423, which was more than five per cent higher than the average selling price reported in February 2010.
"Market conditions remain quite tight in the GTA. There is enough competition between home buyers to promote continued price growth," said Jason Mercer, TREB's Senior Manager of Market Analysis.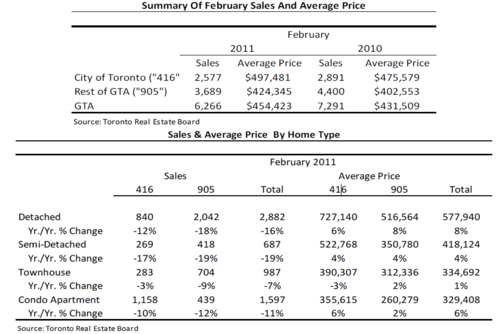 John Pasalis is the Broker Owner of Realosophy Realty Inc in Toronto. Realosophy focuses on researching Toronto neighbourhoods to help their clients make smarter real estate decisions. Email John
Share This Article