Urmi Desai in Realosophy News, Real Estate Marketing
Papa's got a brand new bag! Head over to realosophy.com to check out our new look!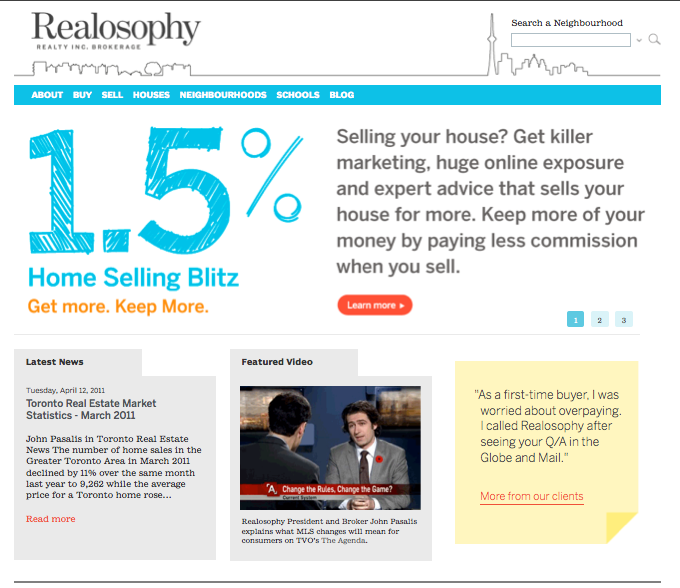 (Tell us what you think! If you love the rebrand – please use our Tweet This! and Facebook Like buttons at the bottom of this post to let us know. And send me your feedback at urmi@realosophy.com).
After tons of ingenious problem-solving and creative sessions, our rock star team has raised the Realosophy brand to a new level. You'll see it roll out in the months ahead, starting with our clean and bright website: realosophy.com.
This is a happy milestone for us. Like so many entrepreneurs, we bootstrapped our branding when we launched our brokerage two years ago. And it was the need to innovate, more than our lack of cash, that pushed us to do it. If starting your own business is the real life MBA, then marketing – when done right – is the real life business plan.

I remember having early sessions with marketing consultants and agencies that turned into crash courses on the real estate industry, long sessions that ended with a much too hearty "well, good luck to you!" No one could tell us more than we knew about the sorry state of the real estate marketing, the high level of consumer anger and the inherent complexities of the industry that don't make for great taglines and stories. We were marinating in it.
Connecting is – and should be – hard work. It's tempting to skip complex messages, to dumb things down, to gloss things over (cue the too-good-to-be-true Coca-Cola dad) to avoid the heavy lifting of telling real stories. But brands feel like people to us. And like the people we know, it's not that they are implausibly perfect, but real. Everything about them makes sense. You know who they are and what you are getting. "He's predictable but in a cooler way" (Starbucks), "She charges a bit more but she knows her stuff" (The Running Room), "They're real estate agents but they do things differently" (Realosophy).
We've come along way since our early days, and with the help of truly amazing creatives (see who), we're telling an even stronger story about who we are and why we're different. We hope you enjoy it!
Tell us what you think! If you love the rebrand – please use our Tweet This! and Facebook Like buttons at the bottom of this post to let us know. And send me your feedback at urmi@realosophy.com
Urmi Desai is editor of the Move Smartly blog and is responsible for Realosophy's business strategy and marketing. Realosophy Realty Inc. Brokerage focuses on researching Toronto neighbourhoods to help their clients make smarter real estate decisions. Email Urmi
Share This Article