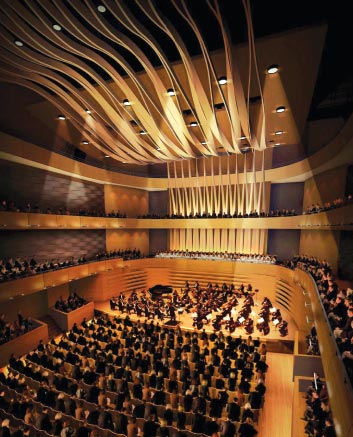 Really enjoyed Koerner Hall's sneak peak event announcing the upcoming 2011-2012 season yesterday.
Koerner Hall, the new performance hall at the Royal Conservatory of Music (RCM), has become a huge favourite with me because of its amazing acoustics and intimate setting and the brilliant work of programmer Mervon Mehta (yes, he's related to that Mehta). Mehta has done a stellar job mixing old and new and avoiding usual traps by applying a very high standard of excellence. Catching part of the Oscar Peterson tribute earlier this year, I was impressed by Mehta's goal of bringing outstanding international artists to our city for Toronto-led programming. This upcoming season is equally exciting (tickets go on sale to the public April 30th).
I also appreciated RCM President Dr. Peter Simon's comments.

Koerner Hall has gained worldwide recognition and shows what Torontonians can do when we want to do excellent things. And it truly takes a "we" - from the leaders who visioned the project, the architect who designed it, the financiers who paid for it, the artists who make it worthwhile and the patrons who create the incentive to bring even better programming to the stage. (Even if one reviewer doesn't like some of the newer patrons' manners, it's easier to teach manners than struggle along with empty seats. Some musical courtesy sessions might be well attended by a younger crowd if held over a few drinks in the Hall's lobby, one of the most beautiful in Toronto.)
A humorous comment from Simon inviting the condo developers across the street to fund concerts in appreciation for the fabulous arts lifestyle they're able to market made me think of Michael E. Porter's latest thoughts on creating shared value in the Harvard Business Review. It's interesting to think about how Toronto's entrepreneurs can move beyond static advertising/fundraising cycles into longer-term synergetic relationships with culture.
The RCM's musical teaching and examination method has recently been chosen by Carnegie Hall to be used as the standard for U.S. music schools. Another reason I love going to Koerner Hall is that it brings me back to the Bloor Street building, where I once climbed those creaky steps, stomach churning, to do my piano exams. It's part of my Toronto.
My piano teacher was probably relieved when I finally quit, but that early experience of trying to train my mind to learn a craft (especially the lessons I learned from my failures) resonate strongly with me today. I love the Conservatory's tagline: "The finest instrument is the mind."
Kudos to this strong Toronto brand.
Urmi Desai is editor of the Move Smartly blog and is responsible for Realosophy's business strategy and marketing. Realosophy Realty Inc. Brokerage focuses on researching Toronto neighbourhoods to help their clients make smarter real estate decisions. Email Urmi
Subscribe to the Move Smartly blog by email
Share This Article