John Pasalis in Toronto Real Estate News
In my monthly market update last week I showed that strong demand for homes coupled with a decline in the supply of houses coming on the market is pushing us further into seller's market territory.
The sales figures for the first two weeks of April show no signs of change. Sales are only down three percent from last year's record sales in April and new listings are down 21%.
The latest press release from the Toronto Real Estate Board:
Greater Toronto REALTORS® reported 4,444 sales during the first twoweeks of April 2011 – a three per cent decrease compared to the first two weeks of April 2010. Thenumber of new listings was down by 21 per cent compared to the same period last year.
"Sales activity was quite strong during the first two weeks of April. If this level of activity is sustained forthe remainder of the month, we could see April transactions close to last year's record result. Positiveeconomic news has kept households confident in their ability to purchase and pay for a home over thelong term," said TREB President Bill Johnston.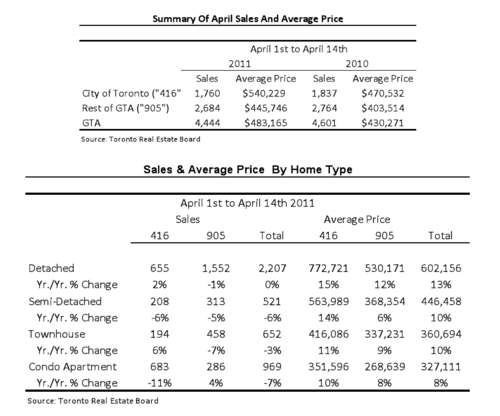 The average selling price for firm deals reported through the first two weeks of April was $483,165,representing a 12 per cent increase over the average price of $430,271 reported during the same periodlast year.
"The number of homes listed for sale so far in 2011 has been below expectations. Market conditionshave tightened, resulting in increased competition between home buyers and accelerating rates ofaverage price growth," said Jason Mercer, TREB's Senior Manager of Market Analysis.
"The strong rate of price growth reported for the first two weeks of April should entice more householdsto list their homes for sale. This would result in more balanced market conditions and more moderaterates of price growth," continued Mercer.
John Pasalis is the Broker Owner of Realosophy Realty Inc in Toronto. Realosophy focuses on researching Toronto neighbourhoods to help their clients make smarter real estate decisions. Email John
Share This Article