John Pasalis in Toronto Real Estate News
The number of home sales in the Greater Toronto Area in March 2011 declined by 11% over the same month last year to 9,262 while the average price for a Toronto home rose 5% to $456,147.
It's worth noting that the drop in sales is slightly misleading. While sales in March appear to be on the way down, we are comparing them to a record number of sales in March 2010. You'll see from the following chart that the 9,262 sales in March 2011 are significantly higher than the roughly 6,500 sales in 2008 and 2009 and the second highest March sales numbers on record.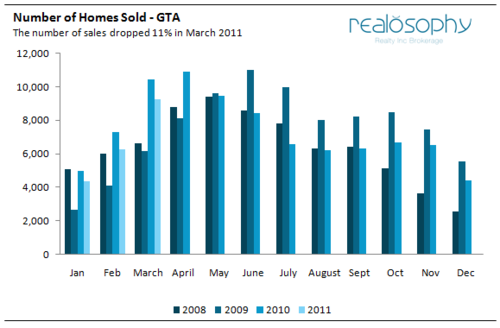 But the real story last month was the big decline in inventory. The number of new listings coming on the market last month dropped 19% to 15,315. The total number of listings available for sale in March dropped 11% over the same month last year to 16,616. But much like the misleading sales numbers, the 11% decline doesn't show how low the inventory of homes really is because the number of homes available for sale in March 2010 was also historically quite low. The number of homes available for sale in March (2005-2009) has generally hovered around the 21,000 – 23,000 range. This means that last month there were 5,000 – 7,000 fewer homes available for sale than we would expect to see in March. We can see this by looking at the inventory level for March in the following chart.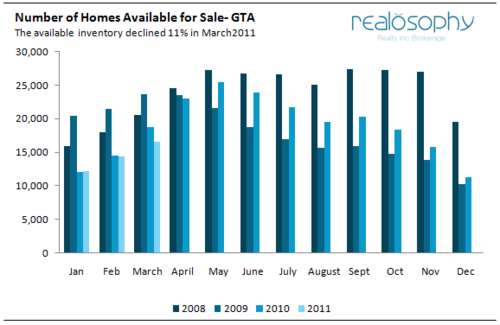 This lack of inventory coupled with strong demand pushed the sales-to-inventory ratio to 56%, deep into seller's market territory.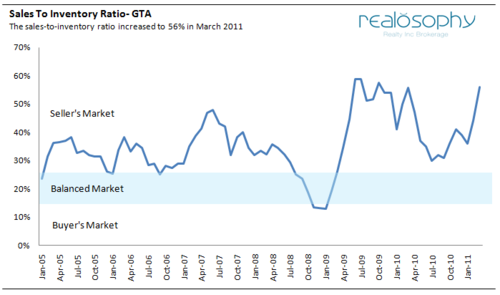 Is this trend going to continue into the spring? It's really tough to say. Economists have a lot of great tools (some more accurate than others) to forecast future changes in the demand for residential real estate but I have yet to see any good indicators that even attempt to forecast changes in supply, which as we can see this month is just as important as changes in demand. We need to see demand drop and supply increase before we see more balance in Toronto's real estate market.
Looking at the Teranet National Bank House Price Index we see that Toronto house prices inched up in January while house values in Ottawa and Calgary continue to slide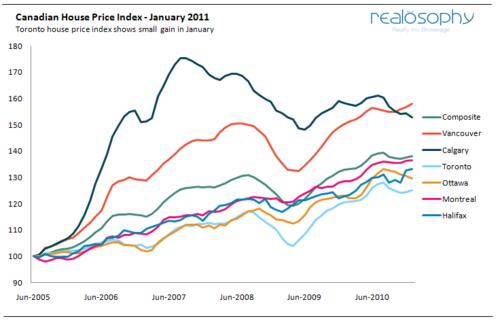 John Pasalis is the Broker Owner of Realosophy Realty Inc in Toronto. Realosophy focuses on researching Toronto neighbourhoods to help their clients make smarter real estate decisions. Email John
Share This Article